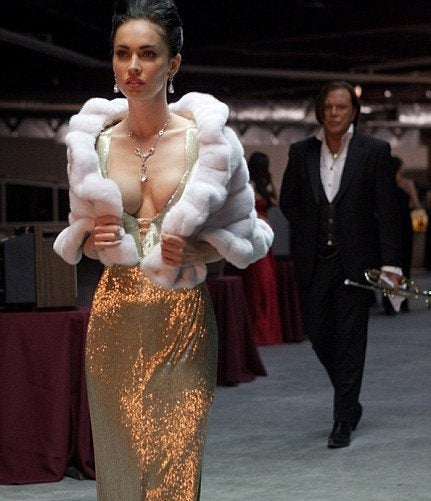 UPDATE: Image Entertainment announced through a press release on Friday that the movie will open in limited theaters on May 6: "Passion Play will begin its theatrical roll-out in New York and Los Angeles and will follow with a platform release strategy."
PREVIOUSLY: Neither angel wings nor cleavage could save Megan Fox's newest film.
Fox stars as an angel (or just a woman with a random set of wings) working in a circus in the film "Passion Play," a slightly bizarre premise that you'll have to go out of your way to see -- it's going direct to DVD. The film, which co-stars Mickey Rourke as a burnt out trumpet player who rescues and somehow romances Fox from Bill Murray's sleazy gangster, is set to be released to home theaters everywhere on May 31st.
It's little surprise that the movie, despite a seemingly strong cast, finds itself without theater play; it already failed on the big screen. Playing at the Toronto Film Festival in September, the film bombed, with terrible reviews and viewers openly mocking it as it played -- that is, before they walked out.
According to Rourke, who went to high school with writer/director Mitch Glazer, it wasn't Fox's fault that the movie failed. In an interview with EW, Rourke absolutely raved about Fox's acting skills. Big time.
"I think the pleasant surprise was this girl who's a world-class beauty turned out to be probably the best young actress I've ever worked with," Rourke said. "I don't know if a lot of her films have showcased her acting ability more than, say, being action-oriented, but she really stepped up the plate with this one and was very consistent and professional, beyond her years. At 23, I couldn't do half of what she's doing."
Unfortunately, it wasn't quite enough to get the film in theaters.
For a trailer for the film, watch below:
WATCH
:
Popular in the Community