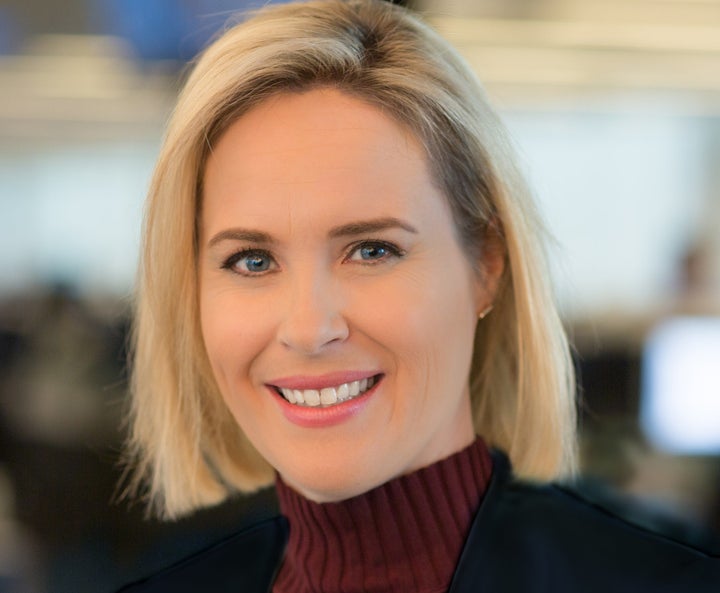 NEW YORK ― Bloomberg News Washington bureau chief Megan Murphy has been named editor of Bloomberg Businessweek, according to a staff memo.
Bloomberg Editor-in-Chief John Micklethwait and Bloomberg Media CEO Justin Smith informed staff of the news Thursday, and announced plans to launch a new version of the magazine in the second quarter of 2017.
"Working out the exact details of this new BBW is the job of the next few months," Micklethwait and Smith wrote. "But we are already clear that it requires deep change."
"Editorially, we want to integrate BBW's journalists more deeply into the rest of the newsroom," they continued. "Our content needs to become more targeted on business and finance, more global and more digital, with daily offerings of news, insights and analysis that help readers understand and compete in the world. And the commercial model will also change. BBW will remain our broadest business brand. But we will dramatically sharpen its utility and value to readers."
Murphy will replace Ellen Pollock, who took over following the October 2015 resignation of Josh Tyrangiel, who now oversees Vice News. Pollock has worked at Businessweek since 2007, two years before it was purchased by Bloomberg and relaunched.
The Washington Post first reported Thursday on Pollock's departure. Her deputy, Brad Wieners, will also leave the company, according to the memo.
Micklethwait and Smith touted the magazine's journalistic successes since 2009 and said Pollock has been at the "very center of this."
"I'm so proud of the magazine we put out," Pollock said in a statement provided to The Huffington Post. "It was an honor to run Businessweek and to work with its wonderfully talented and creative staff. I wish everyone at Bloomberg the very best."
Murphy served as a legal affairs correspondent from 2004 to 2007 before heading to the Financial Times, where she covered the courts, investment banking and media, and rose to become Washington bureau chief.
She rejoined Bloomberg in August 2015 to lead the Washington bureau, which had been shaken by departures and low morale. Staffers had earlier complained about a "leadership void" and a "culture of fear" in the capital. Upon Murphy's arrival, Micklethwait called for a "new beginning" in Washington.
In a separate memo, Marty Schenker, Bloomberg's senior executive editor for government, announced that Wes Kosova will be the next Washington bureau chief. Bloomberg News managing editor Craig Gordon will become executive editor in Washington, Schenker wrote, and Michael Shepard, deputy managing editor at Bloomberg News, will move into Gordon's old role.
Here's the full memo on the Bloomberg Businessweek changes:
To everybody in Bloomberg Businessweek from John Micklethwait and Justin Smith,

We know that Ellen is talking to many of you about her departure from Bloomberg Businessweek. We have booked some time to speak to all of you at

4pm

today. But we wanted to provide some background and context to the changes that are taking place - and also pay tribute to Ellen.

Since Bloomberg acquired Businessweek in 2009, you have made the magazine into one of the smartest brands in global media. Bloomberg Businessweek (BBW) has regularly landed exclusive interviews with global business and political leaders, as well as delivering investigative pieces that changed the course of companies and global business. It has published some wonderful journalism and many of you have the awards to show for it.

Ellen has been at the very center of this. She joined the magazine two years before we bought it, after 18 years at the Wall Street Journal. As editor, she has helped oversee some spectacular stories, from Baltimore's surveillance city to "How to hack an election". She has been a mentor and friend to many of you. We understand why you will miss her.

Brad Wieners, Ellen's deputy, sadly has decided to leave the company, too. They are both wonderful journalists who have done a great job producing a high-quality magazine. But we are now moving in a new direction.

To step back, BBW, for all its successes, faces some deep challenges. The magazine is not integrated enough into the rest of our editorial operations. And BBW's business model has also not evolved as quickly as the market around it - and does not have enough of a focus on digital innovation. The revenue model is still too reliant on declining print advertising rather than digital or multi-platform subscriber revenue. We don't feel that the franchise fully reflects the scale of Bloomberg's global presence.

However, there is also an opportunity with this. We have both spent much of our careers helping to modernize magazine brands. We worked together here on the new redesigned Markets magazine, which has brought in readers and revenues. We are convinced that we can embark on an exciting new phase in BBW's storied 87 year old history - by transforming both its editorial mission and its business model. We hope to do that not just in print, but on the web, in a daily App and through live events.

We need your help to do this. Our plan is to launch a new version of BBW towards the end of Q2 of 2017. Until then we will continue to publish BBW in its current form, with the help of all of you - and to the same high standards.

Working out the exact details of this new BBW is the job of the next few months. But we are already clear that it requires deep change. Editorially, we want to integrate BBW's journalists more deeply into the rest of the newsroom. Our content needs to become more targeted on business and finance, more global and more digital, with daily offerings of news, insights and analysis that help readers understand and compete in the world. And the commercial model will also change. BBW will remain our broadest business brand. But we will dramatically sharpen its utility and value to readers.

What will emerge from this will be very different from the stand-alone magazine you all write for at the moment which Ellen has led so diligently. As we will explain later, many of you will soon report to different beat editors, and, once we have unveiled the new magazine, the central editorial team may well be smaller.

To lead this effort, we have today appointed Megan Murphy to be the editor. Megan has done an extraordinary job as our Washington Bureau Chief. She has a rich background in digital finance journalism both here at Bloomberg and at the FT, where she set up its digital service, FastFT. She will bring the same passion to BBW that she has to the job in Washington. Otis Bilodeau will be her deputy, bringing 13 years of experience at Bloomberg. He has spent the past year integrating television into the broader newsroom.

We're delighted that Kristin Powers will remain as BBW's managing editor and oversee the production of our three magazines. She will play a key role in BBW's transformation and also take on a broader digital role as the magazine becomes a true multi-platform product.

We will also be adjusting the commercial leadership of Businessweek by creating a new Publishing Director role that will include a greater focus on consumer marketing (especially digital subscriptions) alongside advertising revenue. We expect someone new to join soon to serve as Megan's business-side partner in the same way as Scott Havens works so well with Jed Sandberg on the web.

We think that there is a really exciting, secure future for BBW. We hope that you will help us build it over the coming months, as well as continuing to produce a great magazine. We look forward to discussing these changes - and the exciting future we see ahead - in person later today.

John and Justin
Related
Popular in the Community