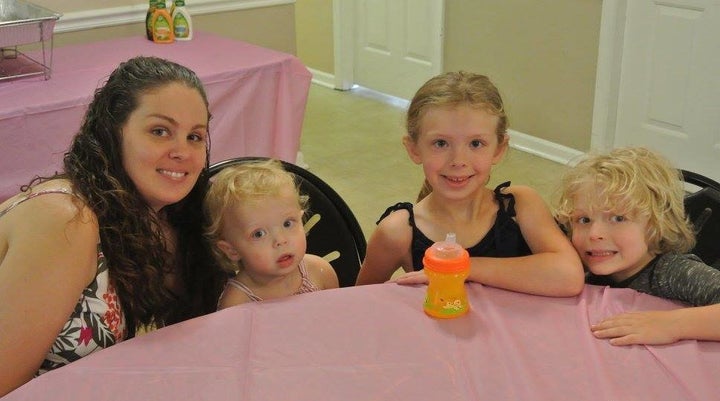 On Aug. 5, Mark Short treated his three young children to a fun day out at Hershey Park, a family amusement park in Pennsylvania.
The next day, authorities say, he fatally shot them, along with his estranged wife and his dog. They say he then penned a one-page suicide letter, reloaded the gun and shot himself.
On Aug. 6, police responding to a welfare check discovered the lifeless bodies of Mark Short, 40; Megan Short, 33; Liana, 8; Mark Jr., 5; and Willow, 2. The kids were in their pajamas.
A little over a week after initially reporting that a gun was found next to one of the adults, authorities confirmed on Monday that it was the husband and father who was responsible for the murder-suicide.
During a press conference, John Adams, the Berks County District Attorney, offered details on the events leading up to the deadly domestic violence shooting.
Megan Short was leaving her husband, he said, and was planning to move out on the day she was killed. There had been at least two domestic disputes prior to the mass shooting, he said.
In early June, security personnel from a hotel in Philadelphia were called for a domestic dispute in a room where the couple was staying. Then, on July 18, the Sinking Spring police department responded to a domestic dispute at the Shorts' home.
According to Adams, Megan Short told police that there had been a verbal argument and she was afraid of her husband. She was advised on how to obtain a protection from abuse order, Adams said, but she did not appear to get one.
The next day, he said, Mark Short purchased a .38 caliber 5-shot revolver handgun and a stock of ammunition from a licensed gun dealership in Lancaster County.
Meanwhile, Megan Short began the process of leaving him, he said, leasing an apartment in Yardley, Pennsylvania, and starting to move her stuff in.
On Aug. 6, authorities said, she had planned to move the rest of her belongings, and her estranged husband had said he would hire a moving truck.
Her mom and other members of her family waited for her at her new apartment, but she did not show up. Her mom contacted police, who then broke into the house through a kitchen window and found the murdered family.
"This was a very, very unfortunate incident," Adams said. "I don't know that anything can be learned, other than when leaving an abusive relationship it's often the most dangerous time for a victim."
He urged others who may be considering leaving an abusive partner to develop a safety plan and contact their local domestic violence coalition for assistance.
According to the Center for American Progress, over half of all women killed by intimate partners between 2001 to 2012 were killed using a gun.
While these types of incidents don't always make national news, the majority of mass shootings (defined as four people killed, not including the shooter) are related to domestic violence.
Melissa Jeltsen covers domestic violence and other issues related to women's health, safety and security. Tips? Feedback? Send an email or follow her on Twitter.
Popular in the Community