Paradigm Shifters is a series of interviews with a select group of women and men from eclectic walks of life. It will highlight unspoken, real-life insights on how they have been able to turn weakness into strength. A naked soul point of view of how their breakdowns were really a preparation for breakthroughs. They are your quintessential paradigm shifters; internal shifts converted into genuine change.
Everything I have ever done has been focused on this underlying theme of shifting the paradigm because, "What we think determines what we feel and what we feel determines what we do." Hence, why Empowered by You takes lingerie, which has traditionally been seen merely as a tool of seduction and redirected that energy as a tool of empowerment.
I hope from these stories you will look at your own situations, struggles and accomplishments through a different lens. At the very least you will be more equipped with real life tools to change your own paradigm. At the end of the day, we are our own Alchemist turning the silver we were born with into the gold we are destined to become.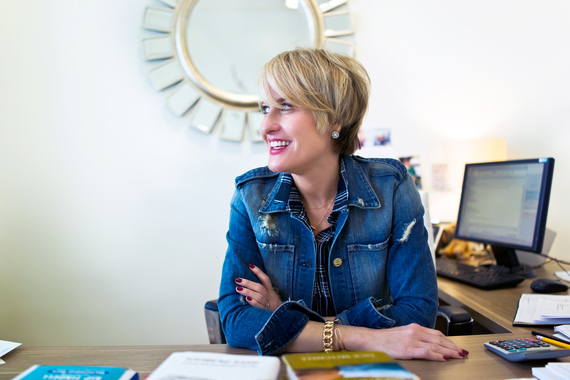 Megan Tamte - Founder & CEO, Evereve


You saw this business from visualization to execution. You didn't have a background in business so were there a lot of setbacks in the beginning?
I was a third grade teacher and a stay at home mom with no retail or business experience at all. Looking back, I realize that I had a two-year mental battle within myself before my husband and I signed the first lease of our first store. By then, it was more about the willingness to lean into fear. It took getting to a place that I believed in what I was doing that allowed me to attack some of the fear I had.
What began was an intense learning journey of recognizing that if I'm going to do this I have to be completely courageous about learning. I had to learn the business. I had to knock on doors and tell people about this concept and get them to want to sell their product to me. Without retail experience there was a lot of rejection. What got me through it was the belief in this idea and the realization that I didn't have to have all the answers.

Were there other retail stores that you were looking at?
The night we signed the lease I Googled "How do you open a store?" I went to the library the next day and got about ten books and I started studying other retail businesses and leaders.
I became a student of business. I studied a lot of business leaders like Jim Collins. I studied Howard Schultz from Starbucks. I studied their core values, their mission. I'm very interested in this conscious capitalism movement with stores like Whole Foods and The Container Store. I studied a lot of the businesses that are trying to thrive in a business environment but also be a force for good in the world.

What is your mission?
We exist to inspire moms to realize and embrace their beauty and power.
That came from my story as a new mom struggling to find fashion. I went out shopping after I had kids and I wanted to feel beautiful. I love my family fiercely, but I lost a little bit of myself. I was also struggling with my fashion to be honest--I felt like a frumpy mom who didn't have time for herself. I went out seeking a shopping experience and I came home feeling less beautiful.
I didn't feel like the retail world understood my needs anymore. My body changed, I had kids with me, and fashion wasn't my priority. A lot changes when you become a mom.

How did you learn about microfinance and why did you want to incorporate it in your brand?
I want to be very clear: the primary way we give back is through the experience in our stores by helping our stylists realize they can take care of mom and help them feel beautiful. That was the mission from the very beginning but I always knew if we could build a successful company, we could give back to empower women all over the world.
With Opportunity International, it started more as a personal journey. Our church had a lot of people connected with microfinance. Where I got connected was in year seven of running Evereve and I was kind of burned out and doubting myself as a CEO. I decided to go on a mission trip with my church and I brought my sixteen-year-old daughter. I was introduced to a woman in Zambia in her mud hut with no running water. She was suffering from HIV. Within a minute I learned that she was a fashion entrepreneur and she had received a loan from an organization and with that money she started her own fashion company. We had this amazing conversation about her best sellers, business and beauty. The money she was making helped her pay for her medication and her daughter's education.
What I walked away with in that very spiritual, affirming moment was the thought, if she can do this, I can do this. This woman had been on her deathbed with HIV yet here she was, so excited about fashion and talking about clothes. That's what gave her life. What I doubted at that time was being in fashion purely to sell clothes. Can I have a life of purpose? Meeting this woman answered everything. I saw microfinance first hand and when I came back I partnered with Opportunity International.

What was your breakdown to breakthrough moment?
I was lying on the couch watching American Idol and I thought to myself, "Am I really going to sit here and watch other people's dreams come true?"
Now, I look at it in terms of what my children saw. A fear I had in starting this company was if I start this company are my children going to be okay? That was a struggle. I laugh now because I think what are my kids seeing at night now? They're seeing a mom that is so alive, so excited and so happy and I think about what they would have seen had I not made that decision. They'd probably see a mom who was lying on the couch every day watching reality TV.
At this moment in time if I ask do you feel successful, what would you say?
For me success is becoming who God created me to be and using the talents and gifts I've been given to love others and make the world a better place. I do believe that I am living my authentic self and that I was created to be a mom, a business leader, and a fashion entrepreneur.
I love motherhood, I love fashion and I love helping women feel beautiful. And I believe in becoming who you were created to be for others and to give back.
What are you most excited about right now with the business?
We have over a thousand women that work at Evereve and about five men. I take that very seriously and I think about the unique responsibility we have to the women in our company and what a neat opportunity it is to have a company full of so many women. I think a lot about how are we going to be part of helping these women live full lives and be strong women. It's such an honor to have people join your company and want to be part of this dream. I think about how fun that is and how much of a responsibility it is to create a culture where women (and our 5 men) are learning, growing and becoming better.

What would you wish your legacy to be?
1. She loved God with her whole heart and her whole soul and she tried her very best to love others (and she taught her children to do the same).
2. She played a part in helping moms realize how powerful they are; moms have the power to shape our world for good.
3. She played a part in encouraging women to courageously use their voice and tell their story to make the world a better place.
4. She played a part in helping people realize that fashion, retail, and business can be a force for good.

If you had a title for this year, what would that title be?
This year is all about change, moving forward, growth and evolution. We're growing, we're opening more stores, and we have new investors and partners. We're becoming a bigger company, moving from the entrepreneur stage to a big business.
With that comes personal growth. I have to shift and evolve from becoming an entrepreneur to being a businesswoman. There's so much growth and evolution happening this year.
Talk about going from dream watcher to dream catcher! Even more phenomenal is learning how Megan leaned into fear which ultimately allowed her to enable other women's dreams to come true. Does it get better than that? I appreciate Megan's authenticity about her journey. In the moment where she thought she might have lost her north, she came back to her purpose and the realignment happened naturally. Evereve is the type of store you see popping up around the country and you are grateful they exist.
REAL LIFE. REAL NEWS. REAL VOICES.
Help us tell more of the stories that matter from voices that too often remain unheard.