About a year ago, entrepreneurs Andrew Volk and Adam Freck were convinced meggings -- yes, leggings for men -- were just on the verge of a breakthrough. And with good reason, it turns out.
On Dec. 15 of last year, the two men launched Meggings Man, their online-only business devoted entirely to leggings crafted specifically for guys.
They've been working long hours to keep up with orders ever since. Within a week of the Meggings website going live, they say they sold out of their first run of inventory. Their second run sold out just as quickly and back orders were piling up in a response Freck described as "beyond expectations."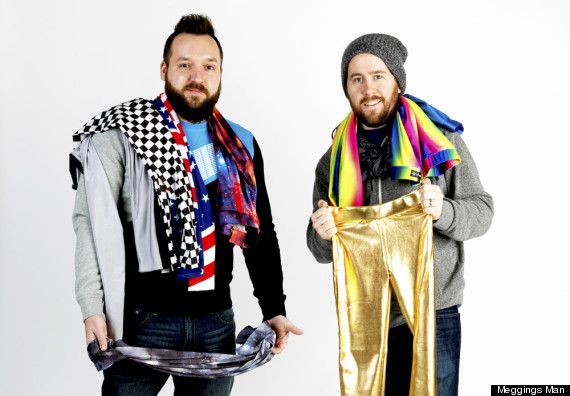 Volk (left) and Freck with their signature product: Meggings.
Still, given all the derision and ridicule meggings have been subject to in recent years, one has to wonder if the trend has staying power. Both Volk and Freck, who have worked in apparel and e-commerce for the past five years, insist that it does.
"I think this is the right time for meggings," Volk said. "I think men are getting more comfortable with wearing something like this, more so than they ever have. I truly don't think it will be something that comes and goes within a year."
The men's venture started when they began noticing men wearing women's leggings and.. not exactly pulling the look off.
"I just feel that they weren't fitting as well as I felt they could," Volk explained. "Certain areas were showing too much, certain areas weren't very flattering on male legs, so we made some samples."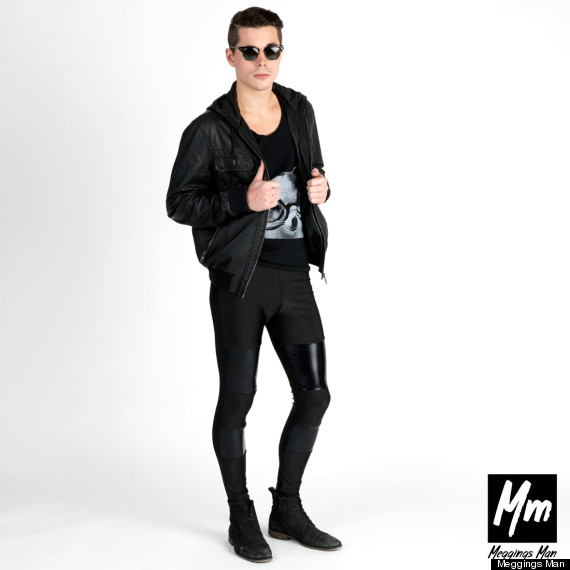 The black on black meggings with metallic inserts.
Six months of tweaking the meggings' design later and they were ready to launch. The meggings are a polyester-spandex blend and start at $29.95 going up to $10 more for metallic fabrics and prints like galaxy, camouflage and nebula. They have an extra panel of fabric added to the hips to make them roomier for mens' typically larger upper legs, as well as a wider waist band and a sort of faux zipper fly that gives them an appearance that references jeans.
What the meggings don't have are pockets, a factor the two recognize could dissuade some from trying the look out. The meggings are also supposed to be hand washed in cold water, likely a tall order for many guys. Freck said they are currently testing new pocket options that would strike "a happy medium between the look not being sacrificed and the functionality." The hand washing issue is inevitable, at least with the current fabrics used.
Other ideas Meggings Man are currently exploring, as the company looks toward next fall and beyond, include heartier fabric choices that would allow men to wear them as pants during the colder winter months, placing zippers on certain designs and creating other clothing items that make the most sense to help complete a full outfit around meggings. They are also looking to get their products into more stores and showrooms -- for now, their lone brick-and-mortar retailer is Cram Fashion in Chicago's Lakeview neighborhood.
Finally, the two also have their eye on continuing to offer new designs that respond to the styles that have appealed the most to their customers. Volk said, thus far, their more "serious, single-colored, darker" pants have been their best sellers to date.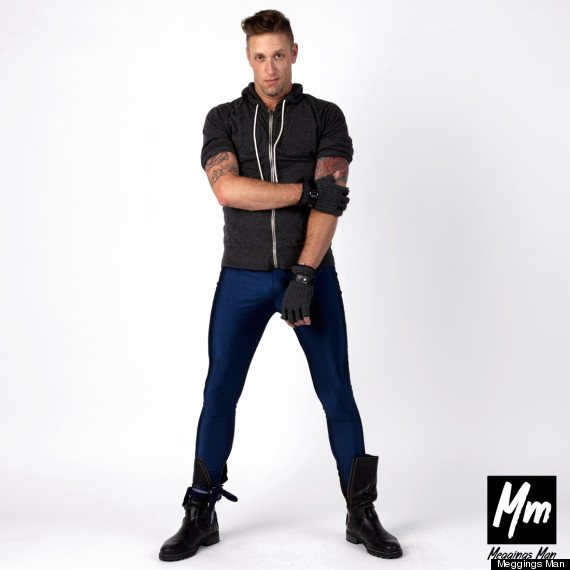 The navy blue basic megging.
Though Meggings Man appears to be the only meggings-centric business currently around, the trend has already hit the shelves of popular retailers including Zara, Uniqlo, Barneys and Nordstrom. The look also hit center stage for the Super Bowl half time show earlier this month when the Red Hot Chili Peppers' Anthony Kiedis donned a pair.
"These are probably the same types of people that would make fun of skinny jeans 15 years ago, and now every major jean company has it as a big part of what they provide," Freck said. "It was mocked and now it's the norm. It's not that we're trying to replace [skinny jeans], but the slimming down of pants is a trend we see going on and we're just part of that."
"All it takes is for them to try them on and some of the fears they had will wash away," he added.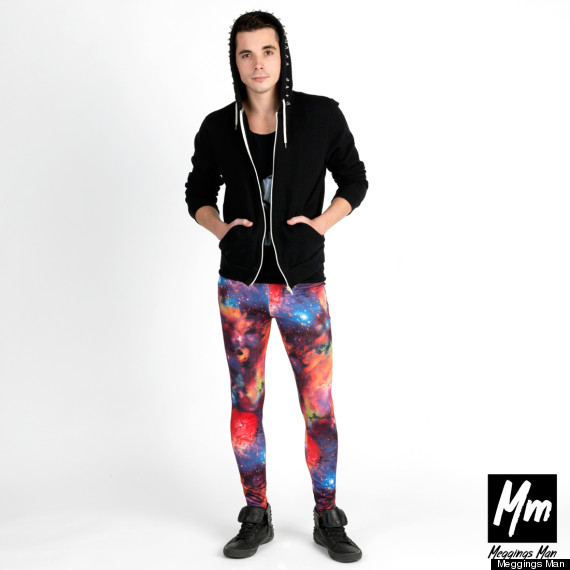 Galaxy-print meggings.
Trepidations aside, I wanted to see if Freck had a point. Would I emerge as an advocate once if I tried them for myself? First, it should be noted that my style already veers toward slimmer fits -- the vast majority of my regular rotation of pants are skinny jeans -- and what my mom calls an "edgy look." Also, I live in Chicago, a major metropolitan center, and my employer isn't exactly the sort of place where a suit and tie are required or even expected. So what worked for me would very likely be more of a stretch for the average American dude.
For my meggings debut, I wore the company's new black-on-black meggings, which adds two metallic black panels -- one just above and one just below the knee -- to the line's basic black meggings, under cuffed black denim shorts to my office in the Loop on a Thursday. Freck described such layering as "a nice little baby step" to the full-fledged meggings experience, not to mention in line with The Sartorialist founder Scott Schuman's advice to USA Today that the trend worked best for non-ballet dancers when layered.
They were slightly tighter, of course, than even the skinniest of skinny jeans but more comfortable and, I would venture to guess, put me at less risk of circulation problems or nerve damage.
Though I'll admit to feeling initially a bit strange riding the train amongst a sea of business slacks and jeans, soon, I just felt cozy and sort of badass all at once.
The next day, a Saturday, I tried out a second pair while spending some quality time with my DVR and trying to fend off the start of a cold. Each time I looked down at my galaxy print-clothed legs, I couldn't help but smile. But I wasn't feeling quite brave enough to rock them for a trip to the grocery store or post office.
The last day of the experiment, I wore the line's metallic black meggings out to brunch and a bit of shopping in Logan Square. Though the metallic material felt more constrictive than the other pairs, they were still more comfortable than a lot of skinny jeans. To avoid the issue of not having pockets, I layered it under a long black hoodie with pockets -- though my jacket would have sufficed too.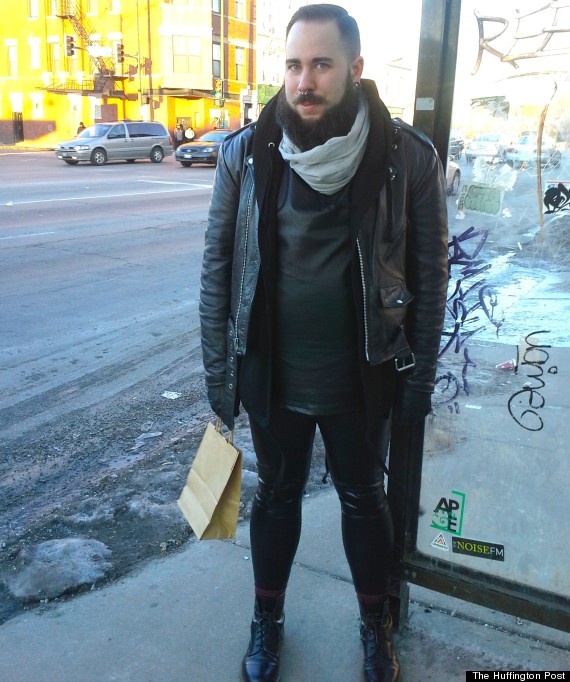 The author wears (and quite possibly pulls off?) black metallic leggings.
So, will I wear meggings again? Sure. Why not? Like any other trend, this isn't for everyone and any meggings-wearer will stand out from the crowd, but is that such a bad thing? For the most part, I felt comfortable, sleek and confident in wearing them, and isn't that exactly what fashion should aim to accomplish?
Related
Before You Go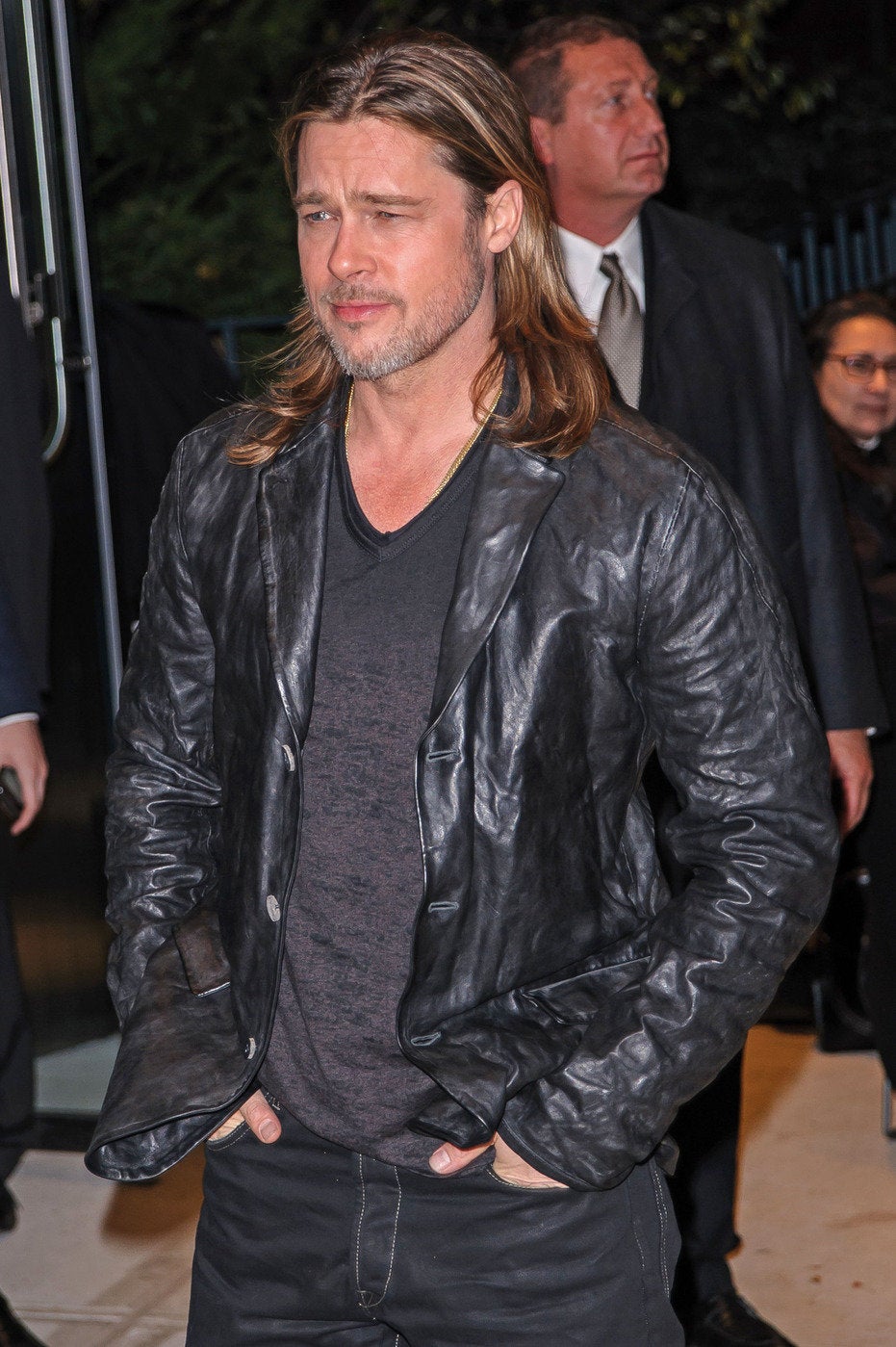 Lessons From Male Style Icons