The hand-painted piece retails for $1,500 and comes with quite the description.
"The Eye of Protection is a classic and essential piece which you will never want to take off," it says. "Ward off undesired energy with this bracelet and attract good vibes only."
In an interview with Harris by phone on Tuesday, the designer said that he had "no clue" that Meghan was going to wear the bracelet and found out after someone tagged him on Instagram and his publicist sent him screenshots.
"I almost had a meltdown," Harris said, adding that the duchess was on his "dream list" of people to wear the brand. "I was like, 'Oh, my God, I'm gonna have a panic attack today.'"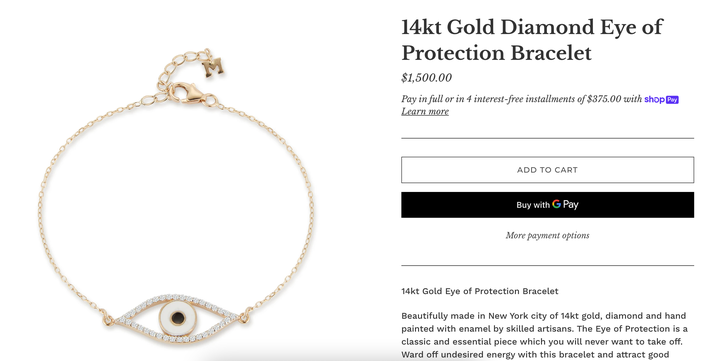 "I wanted to modernize it and make it fresh and remove the diamond drop," he said, explaining that he's also superstitious and loves the Eye of Protection himself. "For her to have on this great piece of personal jewelry really means a lot to me because, one, she's protected. In my mind, I like to think that I blessed my jewelry. So it's a great piece to have."
Harris added that the ethos of his brand is "just to make really great personal jewelry" and create things that are "meant to be worn, not put in a jewelry box and worn at some fancy gala."
"It's just not the brand," he said. "We're making jewelry for the people. [It] sounds political and funny, but it's true."
Meghan had donned a similar piece of jewelry in 2019, when she stepped out during the royals' tour of South Africa wearing an evil eye bracelet from the fine jewelry brand Alemdara, which was created by Mariella Tandy.
The Didem Evil Eye bracelet, in 18 karat yellow gold and retailing for about $373, has a turquoise enamel evil eye and an equally compelling description.
"The evil eye is a sacred symbol used for centuries as protection against negative spirits in Mediterranean culture," the bracelet's description says. "Legend has it that the evil eye works as a shield for envy, reflecting any evil back to where it came from and protecting its owner from any harmful spirits."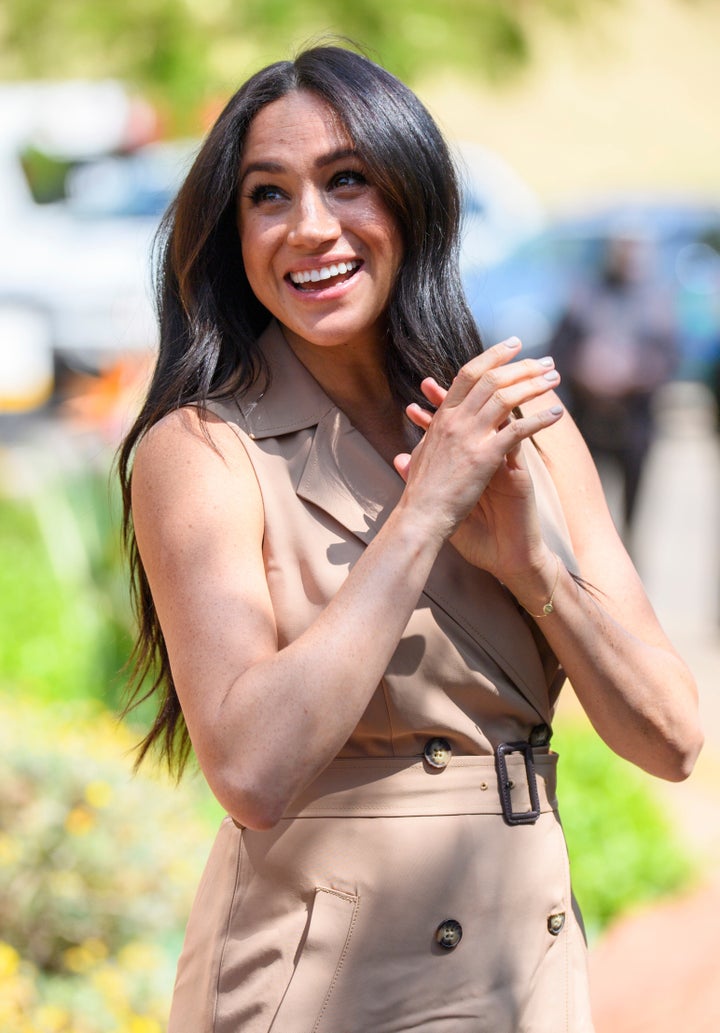 A closer look at the bracelet on the website: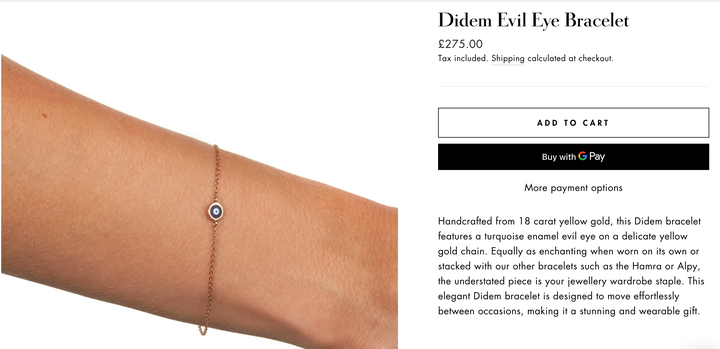 Royals have used their jewelry and clothes to channel messages for decades. Reporter Elizabeth Holmes, author of the book "HRH: So Many Thoughts on Royal Style," spoke to HuffPost in early 2020 about the sartorial choices the royals make.
"No one can possibly know what the thought is behind their choices because the royal mantra is 'never complain, never explain,'" Holmes told HuffPost in the interview at the time, which occurred right after Prince Harry and Meghan Markle announced they were stepping back as senior working members of the royal family.
"I know from researching not just Meghan and Kate but the queen and Diana that a tremendous amount of effort goes into planning their wardrobes, which is why I find it so fascinating," Holmes added. "They're not just wearing it because they think it's pretty, they're wearing it to serve a purpose, to support their job and, many times, to send a message."
The timing of the jewelry is interesting, since Meghan first wore the Alemdara bracelet about the time that Prince Harry announced that the duchess was suing Associated Newspapers for publishing parts of a private letter she'd written to her father, Thomas Markle.
And today, the duchess wore the Mateo New York bracelet as Associated Newspapers launched its appeal over the ruling that the group had invaded Meghan's privacy.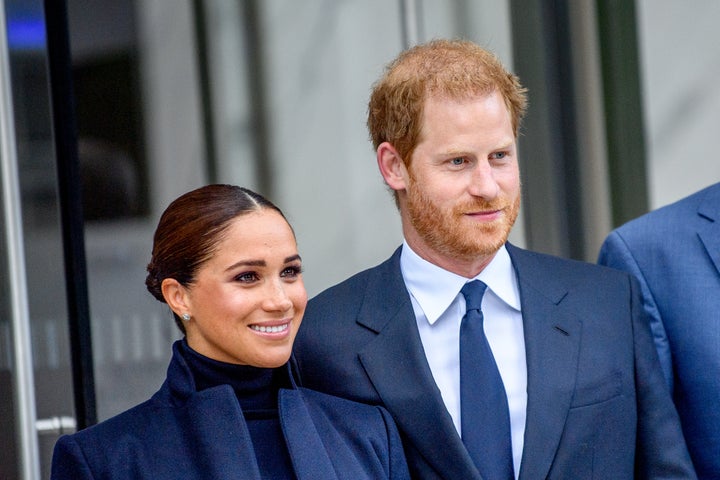 Meghan talked about the appeal Tuesday during the DealBook panel.
"I won the case, and this issue has been going on [since] when I had no children at all," she said of the arduous process. "But, again, it's just standing up for what's right, which I think is important across the board, be it in this case or in the other things we have been talking about today. At a certain point, no matter how difficult it is, if you know the difference between right and wrong, you must stand up for what's right, and that's what I'm doing."
Followers also learned a bit more about the Duchess of Sussex's shopping habits during the panel. Meghan spoke about growing up clipping out coupons, which prompted moderator Andrew Ross Sorkin to ask if that's still how she shops today.
"I'm not — do they have coupons anymore? I don't know. But I will never buy anything online without finding an online promo code first," she said. "That's still in there. It's a modern version of the same thing."
Subscribe to HuffPost's Watching the Royals newsletter for all things Windsor (and beyond).