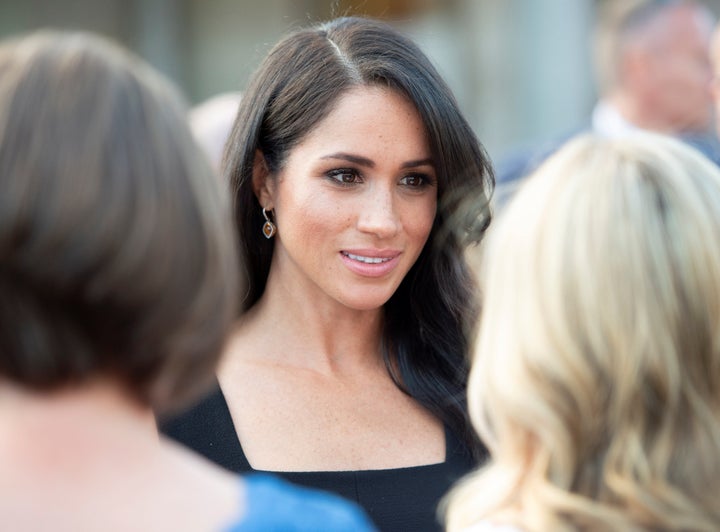 In what would be a significant breach in royal precedent, Meghan Markle reportedly praised Ireland's recent vote to legalize abortion in private conversations during a visit to Dublin this week.
Catherine Noone, an Irish lawmaker who backed the campaign to repeal the country's ban on abortions, tweeted the Duchess of Sussex's views after meeting her at a garden party on Tuesday.
"The Duchess and I had a chat about the recent referendum result — she watched with interest and was pleased to see the result," Noone said, according to The Daily Beast.
Noone later deleted her tweet, but it remains posted by another Twitter user.
Kensington Palace did not immediately respond to a HuffPost request for comment.
The Daily Beast noted that Noone quickly rephrased her original statement and tweeted, "I should say she seemed pleased — she was interested and very measured, not political at all." That tweet was also later deleted.
Una Mullally, a prominent Irish journalist, also tweeted out details about her conversation with the duchess.
"Great to chat with Meghan Markle, Duchess Of Sussex, about Repeal and the importance of her feminist activism," she wrote. "So important to have people in her position championing women's rights. Total sounder!"
Just a few months ago, the former "Suits" actress expressed strong support for the Me Too and Time's Up movements at a royal event alongside Prince Harry, who she married in May, and the Duke and Duchess of Cambridge.
Experts called those comments a break in precedent that could signal a turning point for the royal family.
"It is extremely rare for any member of the royal family to actively comment on political and cultural movements," William Hanson, a British etiquette expert and coach, told HuffPost at the time. The royal family, as a constitutional monarchy, is "meant to be above politics and related matters," he added.
Diana Mather, director and senior tutor at The English Manner, an international protocol, etiquette and hospitality consultancy in the U.K., attributed Markle's candidness at the time to not yet being a member of the royal family.
"I think Meghan will have to be careful not to 'cross the line,' as even though the Royals back certain things, they cannot afford to be controversial," Mather told HuffPost in February.
But Mather added that "protocol is becoming more relaxed in the 21st century and the royal family wants to be seen as making a difference."
Royal news doesn't stop at the wedding. Subscribe to HuffPost's Watching the Royals newsletter for all things Windsor (and beyond).