Thomas Markle repeated his usual pleas for contact with the former "Suits" star in an interview withThe Sun this week. He also added that he has a request for the Duchess of Sussex.
"The other thing is — this will sound a little greedy — but I took care of my mother for the last five years of her life," he said in the interview published on Monday.
"My daughter said she'd take care of me in my declining years,″ he added. "I'm not talking money; I'm talking about taking care of me. That's important to me."
Thomas Markle also said he wants a "father-daughter relationship" with the actress.
"If that means Christmas cards, birthday cards and getting together for the holidays — that is what I want," he said.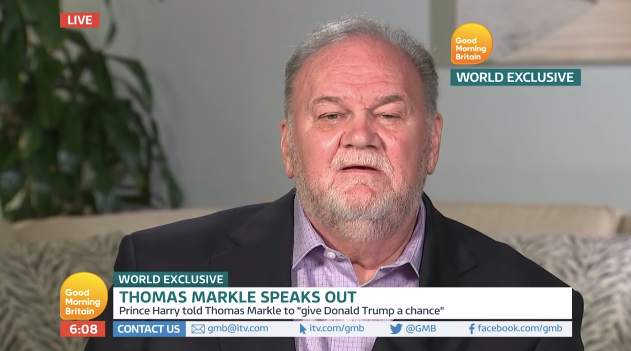 Considering the press tour he's been on since Prince Harry and Meghan's wedding on May 19, it's unclear how their relationship will be repaired. He's previously said he hasn't spoken to his famous daughter since the day after the wedding.
Just a few days before speaking to The Sun, Thomas Markle told The Mail on Sunday that he lied to Prince Harry about his involvement with the staged paparazzi photos that came out before the royal wedding. He added he later hung up the phone on the royal.
"Harry told me that I should never go to the press. That it would end in tears. He said, 'They will eat you alive,'" the former lighting director said. "He was right."
He's also repeatedly said that the Duke and Duchess of Sussex would be better off if he died, because then they could "pretend to be sad."
Kensington Palace has yet to respond to either Thomas Markle or his other daughter, Samantha Grant, who has also spoken to the media, but sources say that the royals are planning a strategy to soon respond to the two.
"The Palace, who normally takes a firm policy of not commenting on personal matters, is now considering a more aggressive strategy to deal with the situation with both her father and her sister," a source told Entertainment Tonight. "No one wants to see this continue."