The couple walked with other family members to the service before returning to Sandringham House for the traditional turkey lunch. They then watched the queen deliver her televised Christmas message.
The queen said in her address that she was looking forward to "welcome new members" into the family next year — likely referring to Markle's marriage to Harry in May and a new baby Prince William and Kate Middleton are expecting in April. An engagement photo of Markle and Harry was spotted with other family pictures near the queen as she spoke.
The queen honored the victims of the 2017 terror attacks in Britain, and others affected by them, in her speech.
Earlier, Markle, 36, joined the queen, Prince Philip, Prince Charles, William, Kate, and other members of the royal family at St. Mary Magdalene Chapel.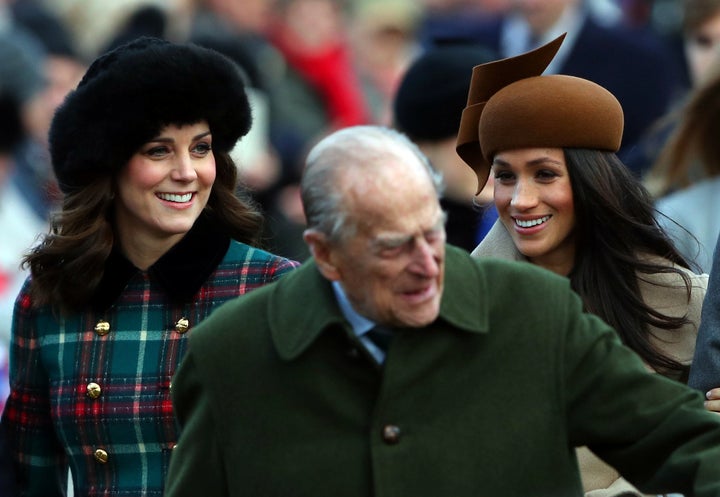 Hundreds of people gathered outside, some lining up well before dawn, to catch a glimpse of the royals. They applauded Markle and Harry, who announced their engagement last month. Markle executed her first public curtsy — along with her future sister-in-law — as the 91-year-old queen left the service.
Markle appeared at ease with the royals, chatting to William and Charles, and walked arm-in-arm with Harry, 33. After the service ended the couple greeted members of the crowd.
Markle wore a camel-colored wrap coat by Sentaler of Canada, Stuart Weitzman over-the-knee boots and carried a suede Chloe bag.
The biggest hit was Markle's chestnut brown hat. One Twitter user noted that Markle is bound to fit in with the royals because she clearly has an eye for the "futuristic church lady hat the Brits are so into."
The queen wore bright orange.
Popular in the Community