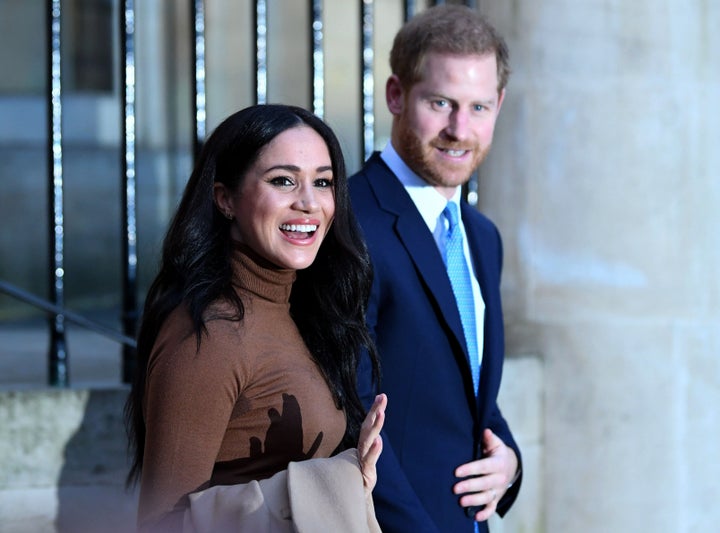 Meghan Markle has for years been the target of sweeping hate-fueled harassment online — and a recent investigation has found that a small handful of people were behind it, utilizing social media to propel violent racist and sexist posts to reach millions of people.
By analyzing 114,000 tweets with internal Bot Sentinel tools, it determined that 55 single-purpose accounts (identified as primary hate accounts) and 28 secondary hate accounts (which helped further amplify the primary accounts) accounted for 70% of all original hate content targeting the Duke and Duchess of Sussex. That content could potentially reach 17,000,000 users, the report said.
"Our research found that a relatively small number of single-purpose anti-Meghan and Harry accounts created and disseminated most of the hateful content on Twitter," the report overview said.
"However, the primary accounts had assistance that allowed their content to be repackaged and shared by accounts with a considerable following," the report added. "We observed the primary accounts coordinating their activities and using various techniques to avoid detection. In short, the majority of the anti-Meghan and Harry activity wasn't organic."
The findings exemplify a growing trend apparent on all platforms and within misinformation campaigns, where a small number of users can drive the majority of deceptive content.
For example, the Center for Countering Digital Hate revealed in May that they found that 12 accounts ― nicknamed the "Disinformation Dozen"― were responsible for 65% of vaccine misinformation and lies spread on social media.
Bouzy, CEO of Bot Sentinel, told HuffPost on Tuesday that the concentrated number of accounts was one of the most interesting parts of the findings, in addition to the race of most of the people tweeting about Meghan.
"Many of these women were white, middle-aged women, not hiding that fact," he said, adding that "some of them were bragging about it."
"So that also was a bit different than what we're normally seeing with these types of campaigns," Bouzy added, citing both Brazilian and U.S. elections he's studied. "A lot of this is usually overseas, somewhere where a group of people are hired to put this stuff out there, they create these fake accounts, as you know; they spam stuff all over the place."
"There are accounts that will use photos of someone that is a celebrity, which that, in itself, there is nothing wrong with that," he said. "But there are people who try to use photos of people that are on a dating website or Instagram or something like that. And then they try to paint this picture of like, 'Oh, you know, I don't know why Meghan is trying to be a part of the Black community. She was never part of the Black community.'"
"If you just use reverse Google [search] or use one of the other big facial recognition tools that are available, you find out that this is a photo that was lifted from someone," he said. "So a lot of times these accounts are Caucasian people, whether they're white men or white women. Digital blackface is actually a real thing and that's just to make people feel like, well, she doesn't have the Black community behind her. And it's not just exclusive to her."
Bouzy said he doesn't know the motive for humans ― not bots ― to tweet about Meghan 300 or 400 times a day, though he does have a few guesses.
"The only rational assumption you could come up with is that they are trying to either ruin her marriage, or they're trying to have her physically harm herself by constantly putting this stuff out," he said. "She talked about suicide [ideation] and they know that what they're doing is bullying. They know this."
"This is something that people actually put time into to create a narrative that is just not true," he said, later adding that there is "a difference between having an opinion and voicing your opinion and coordinating in such a way that you're trying to manipulate people into thinking something."
In terms of people who would accuse Meghan and Harry's supporters, known as the Sussex Squad, of the same sort of behavior, Bouzy said he sees a clear distinction in his research.
"There's always going to be, you know, some similar activity," he said. "The clear difference here is with the Sussex Squad, the overwhelming number of tweets that I personally saw or that my team saw, was them coming to the defense of the couple and Meghan. There were some things that would be considered bullying, but it was always in response to what [someone else was] doing."
Referencing the Bot Sentinel report, a Twitter spokesperson told HuffPost on Wednesday, "Our teams have reviewed the accounts referenced in this report and have taken enforcement action, when appropriate, against accounts and content that violates the Twitter Rules, including potential violations of our hateful conduct policy and our coordinated harmful activity policy."
"Of the 50+ accounts referenced in the report, our teams took action on four accounts for violations of our platform manipulation and spam policy, meaning that many of these accounts are in fact run by unique individuals," the statement added. "At this time, there's no evidence of widespread coordination, the use of multiple accounts by single people, or other platform manipulation tactics."
The Duchess of Sussex has been the relentless target of disinformation and hate speech since she entered the global spotlight in 2016, after it was officially confirmed that she was dating Prince Harry.
At the time, the prince released a statement through Kensington Palace condemning the "wave of abuse and harassment" Meghan faced from the U.K. media and "the outright sexism and racism of social media trolls."
And after the Duke and Duchess of Sussex announced in January 2020 that they were stepping back as working members of the royal family, HuffPost UK's Nadine White exclusively revealed findings that showed that Meghan was targeted by hundreds upon hundreds of racist and sexist tweets after the announcement.
The study, which was conducted by digital journalism analysts at the University of Sunderland for HuffPost UK, provided examples of the severe abuse aimed at the former "Suits" actor.
"There will be many more tweets not captured in the study, as racism and misogyny are often expressed in more subtle terms that do not use overtly abusive language," Dr. John Price, senior lecturer in journalism at Sunderland, told HuffPost UK at the time, adding that "The vast amount of abuse captured in these findings is startling."
"It shows that aspects of social media, such as Twitter, have become a haven for people wishing to express hatred against women," he added.
Meghan has spoken about the "almost unsurvivable" amount of hate she faced while on maternity leave for her first child.
"I'm told that in 2019, I was the most trolled person in the entire world ― male or female," the duchess said during a joint interview with her husband, Prince Harry, on the "Teenager Therapy" podcast back in October 2020.
"Eight months of that, I wasn't even visible. I was on maternity leave with a baby," Meghan said. "But what was able to be manufactured and churned out ― it's almost unsurvivable."
"That's so big you can't even think of what that feels like," the royal added.
In court filings last year, lawyers for the Sussexes said that Meghan had also been the target of "hundreds of thousands of inaccurate articles" and was left "unprotected" by the royal family during her pregnancy.
Fighting misinformation and online hate speech has been one of the main focuses of Harry and Meghan's Archewell Foundation, as well as advocating to ensure that social media becomes a healthier place.
The couple ― and the foundation ― currently do not have any active social media accounts.
In terms of what people can do when they see or encounter misinformation on Twitter, Bouzy said, "Some people say report it, but reporting it does absolutely nothing. One of the things people can do is actually tweet at the person and just say, 'Hey, look, this is not true,' and link to an article. Sometimes that works."
He added that simply telling people not to click on something is generally never effective, but emphasized that it shouldn't be up to users to handle this.
"It's the platforms that should be policing stuff or at least giving the users the tools to effectively police the stuff," he said.
Popular in the Community