On Saturday, some people gathered in Trafalgar Square to show support for the Duchess of Sussex, who did not travel to the U.K. for the king's ceremony.
Photos and videos of the crowds showed signs featuring Meghan's face alongside messages such as "the people's princess."
Others in Trafalgar held up posters reading "not my king" as they protested the monarchy and the coronation, which was held at nearby Westminster Abbey.
One person, who carried a sign calling Meghan the "princess of our hearts," told a student reporter from the University of Northampton that she was there to support the duchess.
"I'm here to give Meghan a piece of and a place in the coronation," said the demonstrator, identified only as Elena. "I think she deserves to be here in some spirit."
The demonstrator went on to criticize "the money spent on the coronation" amid the country's "cost of living crisis."
"I'm very, very cross right now, to be honest," she said.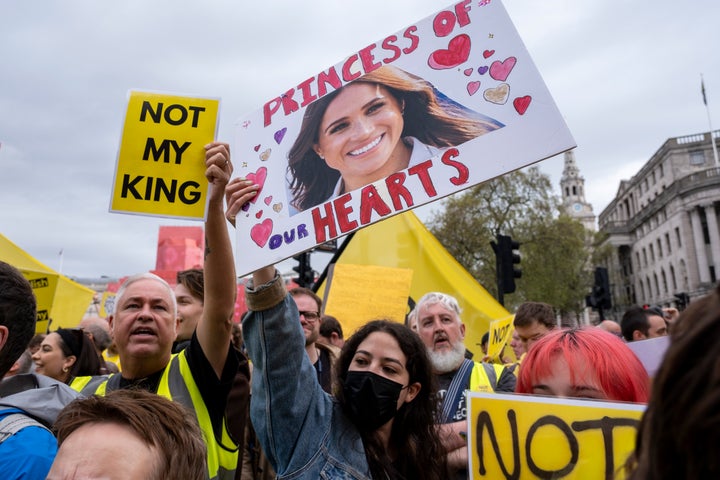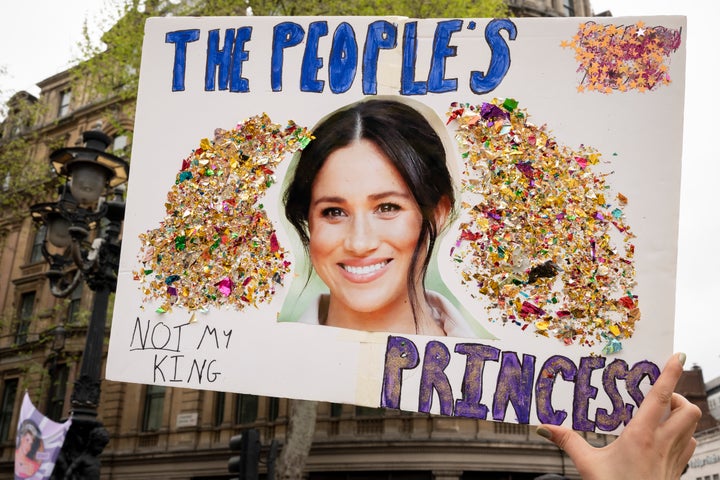 Last month, Buckingham Palace and a spokesperson for Archewell, the organization founded by the Duchess of Sussex and husband Prince Harry, released statements announcing Meghan's decision to not attend the coronation. The big day fell on the 4th birthday of Prince Archie, Harry and Meghan's son.
"The Duchess of Sussex will remain in California with Prince Archie and Princess Lilibet," the palace said at the time.
Harry, meanwhile, attended the royal event, though he didn't have a formal role in the ceremony. He left Los Angeles for the U.K. on Friday, and he left to go back home shortly after the coronation's conclusion.
Earlier in the year, many had speculated about whether Harry and Meghan would attend. The couple had announced their decision to step back as senior working members of the royal family in 2020. They have also spoken out about the racist coverage that Meghan has endured from the British press and about "unconscious bias" within the royal family. The Duchess of Sussex told Oprah Winfrey in 2021 that she had suicidal thoughts during her time as a working royal.
On Saturday, some Twitter users joined in to show their support for Meghan and to acknowledge her turbulent experience as a working royal.
Popular in the Community