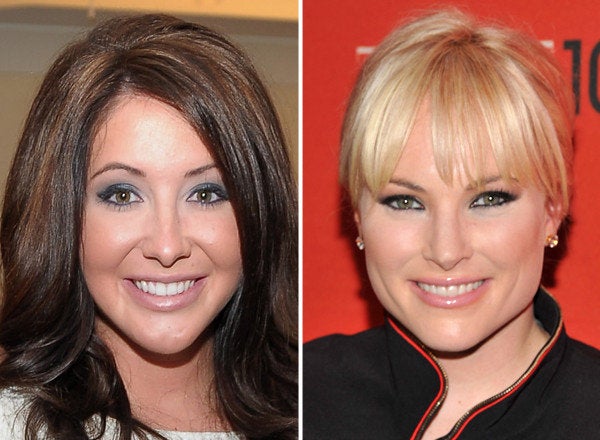 In the book, Sarah Palin's daughter tells stories from the 2008 campaign trail and writes about her experiences with John McCain's daughter Meghan and wife Cindy. Per ABC News, Bristol said of the McCain women, "I'd never seen people with so much Louis Vuitton luggage, so many cell phones, and so many constant helpers to do hair and makeup."
Meghan shot back at Bristol's claims in a new interview with Playboy. "I did bump into her [Bristol] at the White House Correspondents' Dinner, actually," said McCain. She continued:
"I saw her across the room. That girl biffed it fast, totally took off. All that stuff she wrote was a total lie. I have, like, one Louis Vuitton purse. She's just young and confused and was thrust into all this. The media aren't kind to her. But once someone signs up for Dancing With the Stars, it's hard to sympathize."
On the subject of Palin's "Dancing With The Stars" stint, and presumably the TLC reality show "Sarah Palin's Alaska," McCain was asked if she had any interest in appearing on reality television. "Never!" she said, explaining that "Hell would freeze over before I would do a reality show." Summing up her own dancing prowess, McCain joked, "You certainly won't see me dancing on TV. I'm the worst. I have, like, two moves--the hair flip and the shoulder move and that's it, baby."
As previously reported, McCain also touched upon the 2012 presidential contest in her Playboy interview. "It's just been so lame," she said. Lamenting the lack of "electricity" in the race thus far, she explained, "You'd think someone would rise up and tap the frustration and energy of the Occupy movement or the Tea Party, but it just hasn't happened yet."
McCain also told the magazine that she was "very uncool in high school." On her sex life, she explained that she is "not a lesbian," adding "I'm strictly dickly. I can't help it. I love sex and I love men."
Popular in the Community