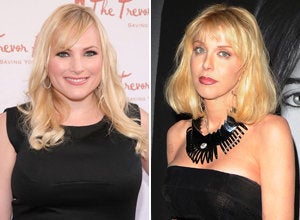 Meghan McCain and Courtney Love discovered they love each other over Twitter on Monday.
"I forgot how much I love Courtney Love until I watched her Vh1 Behind The Music, I totally used to put sparkles in my hair like her circa 98," Meghan tweeted.
She was referring to the VH1 special in which Courtney discussed her drug use, rage and Trent Reznor's penis.
Courtney retweeted that tweet and responded, "@McCainBlogette xoxoxoxo."
Meghan wrote back, "@CourtneyLoveUK I love twitter! :-) Big fan Courtney, you're Celebrity Skin album was the soundtrack to my teenage years! xoxoxo"
Courtney retweeted again and wrote, "I love her @McCainBlogette rocks! xoxoxo"
Meghan continued: "@CourtneyLoveUK You are truly a rock an roll icon. Your music really has meant a lot to me, especially growing up! Xoxo"
Popular in the Community