In an equally empowering and emotional tribute, Arizona Sen. John McCain's daughter, Meghan McCain, honored her late father on Saturday as a great warrior, American and father who was "defined by love," not politics.
"We gather here to mourn the passing of American greatness, the real thing, not cheap rhetoric from men who will never come near the sacrifice he gave so willingly," she said at the memorial service held at Washington National Cathedral. The audience included former President Barack Obama and former Vice President Joe Biden.
"He was a hero. He was a congressman. He was a senator. He was a nominee for president of the United States," she said. "These are all the titles on a wall of a life well lived. He was a great man."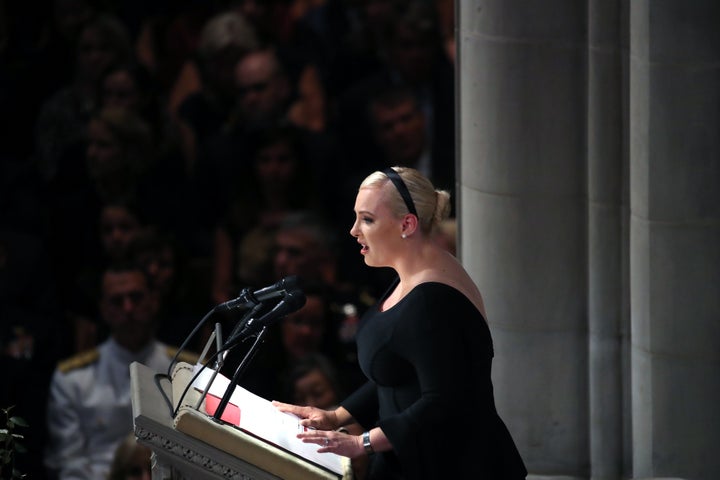 In an extraordinarily rare moment, the entire cathedral burst into applause as she declared "the America of John McCain has no need to be made great again because America was always great."
The declaration appeared to be a direct dig at President Donald Trump ― who did not attend the service ― and his campaign slogan. Trump's daughter, Ivanka Trump, and her husband, Jared Kushner, were in attendance.
"The America of John McCain is generous and welcoming and bold. She is resourceful, confident and secure. She meets her responsibilities. She speaks quietly because she is strong. America does not boast because she has no need to," she declared.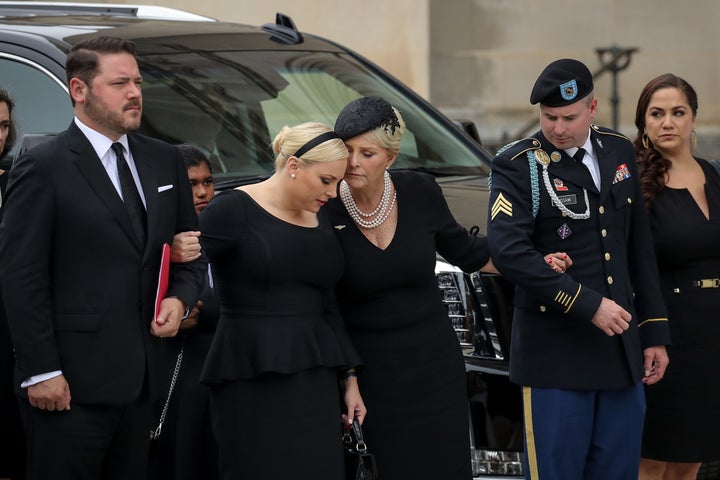 The 33-year-old went on to share her own loving relationship with her father, who she said never used his many accomplishments, pains and sacrifices as a means to make her feel small but used his greatness to raise her up, just as he did for others.
"John McCain was defined by love," she said. "When my father got sick, when I asked him what he wanted me to do with this eulogy he said, show them how tough you are. That is what love meant to John McCain."
"All that I am, all that I hope, all that I dream is grounded in what you have taught me," she said. "Dad, your greatness is woven into my life, it is woven into my sister's life, and it is woven into my brothers' lives, and it is woven into the country."
Popular in the Community