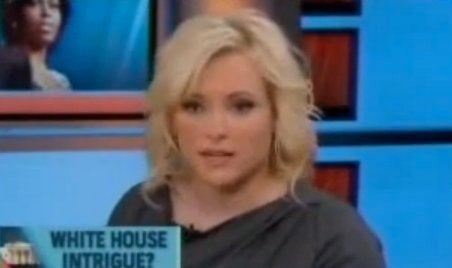 MSNBC contributor Meghan McCain appeared on Alex Wagner's show "Now" on Monday, and used a bizarre word to describe what she believed was the President and Mrs. Obama's right to privacy.
The panel was discussing "The Obamas," a new book by The New York Times' Jodi Kantor, which details the apparent friction between Mrs. Obama and members of the President's cabinet, including former Chief of Staff Rahm Emanuel.
McCain seemed to be defending the Obamas right to privacy, and took issue with the fact that the book was published while the Obamas were still in the White House. "I have no problem with this type of thing being written if they were out of office," McCain said. She then said not once, but twice, that the Obamas deserved "a small emoticon of privacy."
Though she did say the word twice, it's unclear if McCain meant to say "emoticon" to describe a small amount of privacy to which the Obamas are entitled.
McCain has served as an outspoken panelist on MSNBC's "Now." Last week, McCain criticized GOP candidate Rick Santorum for what she called his "outdated" and "gross" opposition towards same-sex marriage.
WATCH: (Via MRC TV)
Calling all HuffPost superfans!
Sign up for membership to become a founding member and help shape HuffPost's next chapter