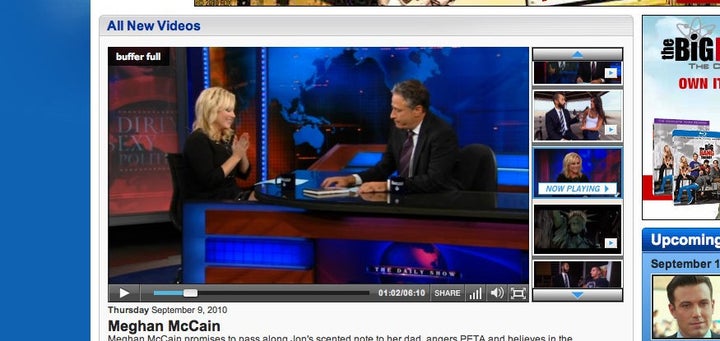 Meghan McCain has been stirring up controversy with her new book, "Dirty Sexy Politics," which tells the story of the 2008 presidential campaign through the eyes of a nominee's daughter.
McCain made a visit to the "Daily Show" on Thursday, telling host Jon Stewart that she wanted her dad to pick Joe Lieberman as his running mate. Instead, GOP nominee John McCain picked Sarah Palin.
The younger McCain has already railed against Palin on TV this week, so this time she took aim at a fellow campaign daughter -- Bristol Palin. When Stewart suggested that McCain was hard on herself in the book, she replied:
"I was not on my best behavior the whole time. I wasn't always acting like I should. But when you're sent to an image consultant and it's said that you look like a stripper and you talk bad and you're hurting the campaign, when there's a pregnant teen there, it does a little bit to your self esteem."
It was revealed that Bristol Palin was pregnant shortly after her mom was picked to run for vice president.