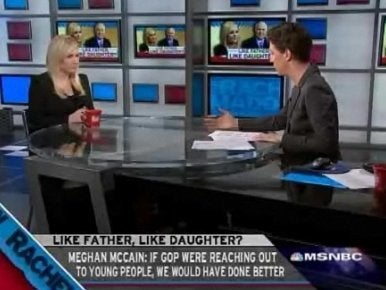 Meghan McCain, the 24-year-old daughter of Senator and former Republican presidential candidate John McCain, has thrust herself deep into the struggle for the future of the Republican party. She argued in a lengthy interview on "The Rachel Maddow Show" that the GOP, a party which she "loves," needs to become more moderate and reach out more, especially to younger voters.
McCain's most recent shot in the battle for the GOP's soul comes against conservative bomb-thrower Ann Coulter, who she called "offensive, radical, insulting, and confusing all at the same time" in an article for the Daily Beast. McCain believes that Coulter is the poster-woman for the most extreme elements of the Republican party, elements that evidently are damaging its health, and McCain thinks she can be the poster-child for the more moderate faction.
McCain says she can speak so candidly about the GOP because she's "not running for office" and "will never run for office." McCain also says: "I know I've become controversial and my statements are controversial, but I wouldn't be doing this if I didn't think it was important. Period."
The interview is quite wide-ranging and it's worth watching the whole thing. Both segments are below.
Part 1
Part 2
Send us tips! Write us at tv@huffingtonpost.com if you see any newsworthy or notable TV moments. Read more about our media monitoring project here.
Popular in the Community