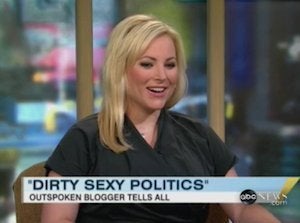 In an appearance on ABC's "Good Morning America" on Tuesday, Meghan McCain, daughter of Sen. John McCain (R-Ariz.), dished about former Alaska Gov. Sarah Palin, her father's running mate during the 2008 presidential campaign.
The younger McCain referred to Palin as "a Republican feminist," but wouldn't say whether she would vote for Palin if the she runs in 2012.
The insights come as the 25-year-old political daughter releases her new book "Dirty Sexy Politics," which offers a unique glimpse into life on the campaign trail as well as her take on the political trajectory of the Republican party.
Here's an excerpt of the one-on-one that went down between McCain, a Daily Beast columnist, and GMA host George Stephanopoulos:
Stephanopoulos: You write about her quite a bit in the book, you say there are a lot of things you like about Sarah Palin, but you also point out that she snubbed your mom's efforts to reach out to the Palins, that she wasn't much of a team player. You talk about doubts at the end, where you thought she actually hurt the campaign.

McCain: Yes, but I do clearly state at the end that we did not lose because of her. And, I'm speaking out now because I do have conflicting feelings about her. I mean, she brought so much momentum and enthusiasm to the campaign.
In her newly-unveiled book, McCain writes about the darker side of Palin's presence on the 2008 campaign. When Stephanopoulos asked about an excerpt highlighting the "drama, stress, complications, panic and loads of uncertainty" the Alaska governor brought to the political operation, McCain responded: "It's true, I mean a lot of things happened, but I think that's how campaigns are in general, no matter who comes."
(Click here to read an excerpt of McCain's new book "Dirty Sexy Politics" on ABC's Web site.)
WATCH today's GMA interview:
Popular in the Community