The senator's daughter called the alleged mockery, first reported on the news site Axios, "abhorrent."
"What more must my family be put through right now?" she tweeted, as her father, who suffers permanent injuries from spending five years as a Vietnam prisoner of war, undergoes treatment for an aggressive form of brain cancer.
According to the story from Axios co-founder Mike Allen, Trump has been reenacting how McCain delivered his dramatic thumbs-down to the health care repeal bill this summer. The 81-year-old war veteran stood before the Senate with his arm raised nearly up to his shoulders ― the highest he can lift it because of his injuries ― before voting no.
The report also describes Trump as physically ridiculing McConnell, with the president reportedly slumping his shoulders and using "lethargic body language" to portray the Senate majority leader.
Trump has been on a roll recently with jabs at both men amid the so-far failed attempts to repeal the Affordable Care Act. The president reportedly called McConnell "weak" at a private dinner on Monday, according to Politico. That same day, he also criticized McCain on Twitter, accusing him of being hypocritical and all talk and no action ― something that Sen. Lindsey Graham (R-S.C.) took issue with.
During the presidential campaign, Trump famously questioned McCain's heroism, saying he's "not a war hero" because he got captured. This week McCain said that Trump, who avoided service during the Vietnam War, has never apologized to him for that remark.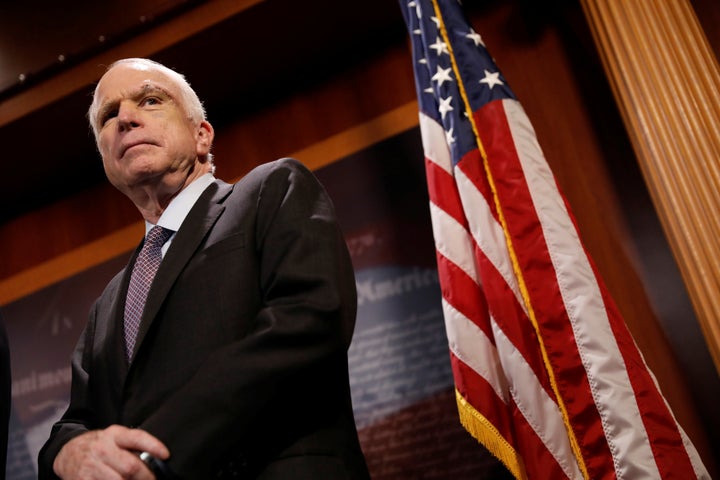 Turning to physical mockery would also be nothing new for Trump.
In 2015, he mimicked a reporter who has arthrogryposis, a congenital joint condition that limits one's movements and in the reporter's case causes his right wrist to angle sharply.
Popular in the Community