A Twitpic Meghan McCain posted of herself on Twitter has sparked drama on the web, prompting the blogger to threaten to delete her Twitter account and denounce the site as a "vessel for harassment."
The Twitpic, which has gotten over 122,000 views at most recent count, shows John McCain's daughter in a low-cut black tank top holding a biography of Andy Warhol (see photo below).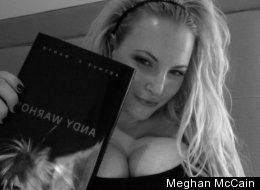 my "spontaneous" night in is my Andy Warhol biography and takeout....I'm getting old
The photo sparked a flurry of commentary on Twitter, which Meghan McCain responded to with threats to "pull a Miley" and quit Twitter altogether.
why I have been considering deleting my twitter account, what once was fun now just seems like a vessel for harassment
Shortly after putting up the photo of herself in a tank top, McCain tried to explain the post via Twitter, saying:
I am going to take some more time to think about it but seriously I was just trying to be funny with the book and that I'm a dork staying in
Twitterers have rushed to McCain's defense, telling her to ignore the hype and criticism.
john_marino: @McCainBlogette You are doing great and I wouldn't worry about a few naysayers. Keep up the good work!
aaronjhoward: Why the heck should Meghan McCain have to apologize for posting a photo that is harmless? OMG her breast cleavage is showing. GAH
Follow the discussion over the live Twitter feed below.
Popular in the Community