Meghan McCain is still clearly mourning the loss of her father, Sen. John McCain (R-Ariz.), who she describes as "always being on my team" and her "best friend" in a moving letter of grief posted to Instagram on Sunday.
"The View" host, 34, posted a photo of her dad cooking breakfast alongside a note that intimately describes the incredibly close bond the two shared before the Vietnam War hero and 2008 GOP presidential nominee succumbed to a year-long battle with brain cancer on Aug. 25. He was 81.
"You used to get up early in the morning and go get us all Starbucks in town in the Cottonwood Safeway and then come home and make eggs and bacon," McCain began her post. "You always had a giant venti cappuccino. We would eat on the porch and talk about life and politics while you read the newspaper and watched out for the hawks to fly by."
She goes on to express that she wants nothing more than to share those mornings with her father again and that, "I don't know how you go from talking to someone seven times a day to never."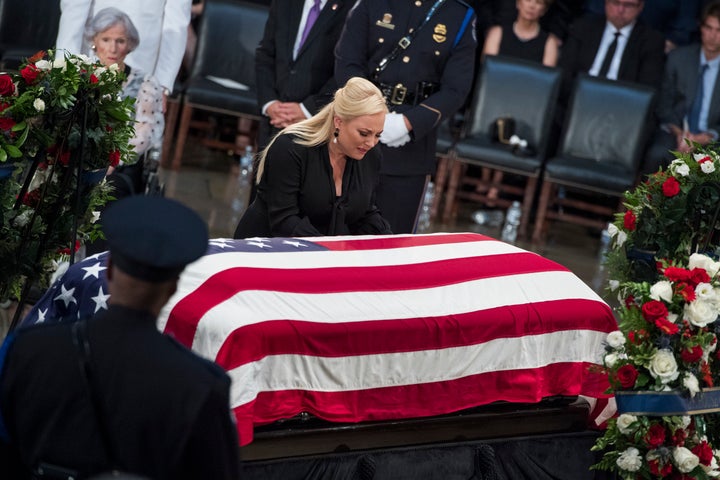 "It is still so indescribably surreal to go through the motions of life without sharing all of it with you ― like some awful parallel universe I fell into," she continued. "The pain of missing you and the grief that comes with it continues to be sharp and primal. Some waves are more intense than others but they come every day relentlessly. Stay with me. Stay with me. Stay with me."
McCain said shortly after her father's death that her dad raised her to be strong and resilient and that "his flame lives on" in her and others. Her message Sunday echoed that belief.
"I fight on because that is what you told me I had to do and demanded of me," she wrote. "I know you made me so tough and strong with the intensity that only you could have purposefully ― and for that I am the most grateful … I love you forever."
McCain ends her post with a wish that society "wouldn't put time limits or rules on grief" in hopes of inspiring others to be honest about their feelings of losing a loved one.
"I shared my father on social media while he was here (and he loved it) and I choose to continue sharing him now that he is not."
In October, after a hiatus due to her father's death, McCain returned to "The View" with a touching tribute to him.
"It made me so inspired that the ideals my father espoused throughout his career are the ideals of America," McCain said, touching on the support and respect people from all over the country expressed after her dad's death.
"There was a lot of talk about what died with him," she continued. "And I am here today to tell you, it didn't. It is alive and well."
Calling all HuffPost superfans!
Sign up for membership to become a founding member and help shape HuffPost's next chapter