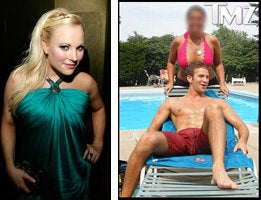 Meghan McCain wrote on The Daily Beast today about a subject near and dear to the Huffington Post: GOP Rep. Aaron Schock. McCain was apparently surprised that a Republican congressman could be such a looker (she was sure Schock was a Democrat at first), and drew a comparison between him and her much much older father, pointing out that Schock "can relay a message in ways my father never could."
Schock's rapid rise to the national level is, if nothing else, interesting, especially given the serious soul-searching the Republican Party is experiencing. My father, had he won, would have been the oldest president in history elected to a first term. He was often criticized because of the generational gap between him and young voters. Schock should play his youth to his advantage, and so should the GOP. In a party stereotyped as one for old, white men, Schock has made a marked impression on my generation's zeitgeist--even if it was unintentional.
McCain also believes the 27-year old hottie from Illinois is exactly what the GOP needs right now:
Schock's youth allows him to be more attached to my (our) generation, yet he has not oversaturated himself in the media, making him all the more intriguing. With that comes much power; I encourage Schock, and the Republican Party, to embrace his age and his political convictions to continue to communicate conservative ideals to a growing audience.
Want more on Aaron Schock?
See the poll that confirmed his hotness.