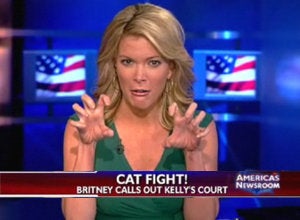 Fox News' Megyn Kelly challenged Britney Spears to a head-to-head Tuesday in her "Kelly's Court" segment on "America's Newsroom."
In January, Kelly called Britney out over the suggestive lyrics to her latest song, "If You Seek Amy" — which, she said, "is really just the F-word spelled out in disguise." Then, Britney hit back in the "If You Seek Amy" music video, opening and closing the video with a blonde anchor on a show called "American News" mimicking Kelly's outrage.
Tuesday in "Kelly's Court," the former lawyer addressed the situation.
"Whoever could they be referring to?" she laughed. "Britney Spears turns out to be a faithful 'America's Newsroom' watcher just like all of you! Whodathunkit?"
Kelly then challenged Britney to come on the program.
"Bring it, Britney!" she said. "We have invited Britney Spears to come on this program. Showdown! Reer!"
Send us tips! Write us at tv@huffingtonpost.com if you see any newsworthy or notable TV moments. Read more about our media monitoring project here and click here to join the Media Monitors team.
Related
Popular in the Community