What was Megyn Kelly's secret to staying thin in law school? Wait for it ― fat shaming.
"Some of us want to be shamed," the NBC personality said Thursday on "Megyn Kelly Today." "When I was in law school, I was gaining weight. I said to my stepfather, 'If you see me going into that kitchen one more time, you say, "Where you going, fat ass?'" And it works!"
The revelation triggered nervous laughter in the audience.
Kelly made the remark in a segment featuring controversial "fit mom" blogger Maria Kang, who Kelly even encouraged to "parlay the shaming thing into a professional business."
Kang, 37, tried to get into the spirit of the confession by admitting: "My husband does that to me all the time. I tell him my goals, and if it's early in the morning and he sees me still in bed, he's like: 'What are you doing in here?'"
Kang said she's "in your face" when it comes to helping people stay fit. But she switched her old "What's your excuse?" harsh approach after it was attacked in 2013 as bullying and fat shaming. Now, she asks: "What's your reason?" and encourages women to focus on why they want to get fit.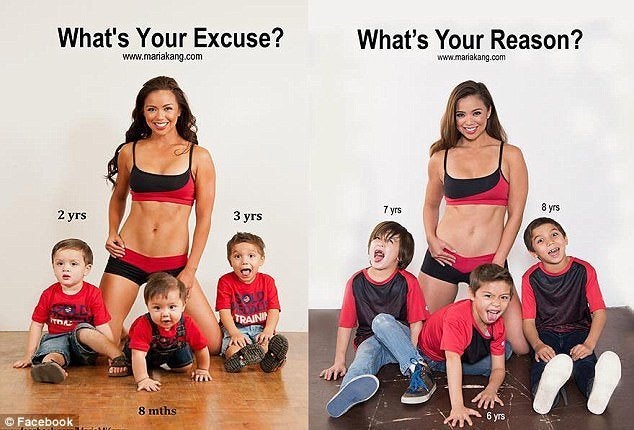 Twitter wasn't nearly as easygoing as Kang about Kelly's rattling revelation.
UPDATE: Jan. 12 ― Kelly addressed her controversial comments on Friday's show, stating that she "absolutely" does not support body-shaming and that she was merely acknowledging that Kang's message "does actually appeal to some people."
"Close to forty percent of Americans are obese," Kelly said. "They need support, they need kindness and one thing they definitely do not need is to be body-shamed. I said something yesterday on the show that clearly struck a nerve, and I think it's a conversation we need to have openly."