Megyn Kelly attacked Jane Fonda during her show on Monday, spending several minutes blasting the actress for her anti-Vietnam War activism and for refusing to talk to Kelly months ago about plastic surgery. 
"Now, a word on Jane Fonda, who appears to be fixated on an exchange I had with her months ago on this show," Kelly began.
The TV host apparently was sent into full-feud mode by Fonda's appearance last week on the "Today" show with "Grace and Frankie" co-star Lily Tomlin. When "Today" co-host Hoda Kotb asked how long Tomlin and Fonda have known each other, and Tomlin joked that she's known Fonda since "before your first face-lift," Fonda immediately quipped, "Who are you? Megyn Kelly?" A few days later, Fonda told Variety that Kelly is "not that good an interviewer" and she'll only appear on Kelly's show again if the host "learns her stuff." 
Those digs intensified a rift that opened in September 2017, when Fonda, during an appearance on Kelly's show, "Megyn Kelly Today," was aghast that Kelly raised the topic of plastic surgery. "We really want to talk about that right now?" Fonda answered, shifting the conversation to her latest movie.
"It's time to address [Fonda's] 'poor me' routine," Kelly told viewers on Monday.  
"For years she has spoke about the joy of giving a cultural face to older women," Kelly said.
"The truth is, most older women look nothing like Fonda, who is now 80. And if Fonda really wants to have an honest discussion about older women's cultural face, then her plastic surgery is tough to ignore."
Kelly then aired clips of Fonda talking about her plastic surgery on other talk shows, and said she's done so "pretty much everywhere."
"Apparently, when she came here, however, again to promote her film about aging, I was supposed to discern that this subject was suddenly off limits," Kelly said.
"I gave her the chance to empower other women, young and old, on a subject she purports to know well and she rejected it. And that's OK. But I have no regrets about that question."
The NBC host took it even further. She said she's not "in the market for a lesson from Jane Fonda on what is and is not appropriate" and dug deep into Fonda's past to talk about "a woman whose name is synonymous with outrage."
"Look at her treatment of our military during the Vietnam War. Many of our veterans still call her 'Hanoi Jane,' thanks to her radio broadcast which attempted to shame American troops," Kelly said, showing old photographs and footage of Fonda.
"She posed on an anti-aircraft gun used to shoot down our American pilots. She called our POWs hypocrites and liars and referred to their torture as 'understandable.' Even she had to apologize years later for that gun picture. But not for the rest of it.
"By the way, she still says she is not proud of America. So, the moral indignation is a little much. She put her plastic surgery out there. She said she wanted to discuss the plight of older women in America. And, honestly, she has no business lecturing anyone on what qualifies as offensive."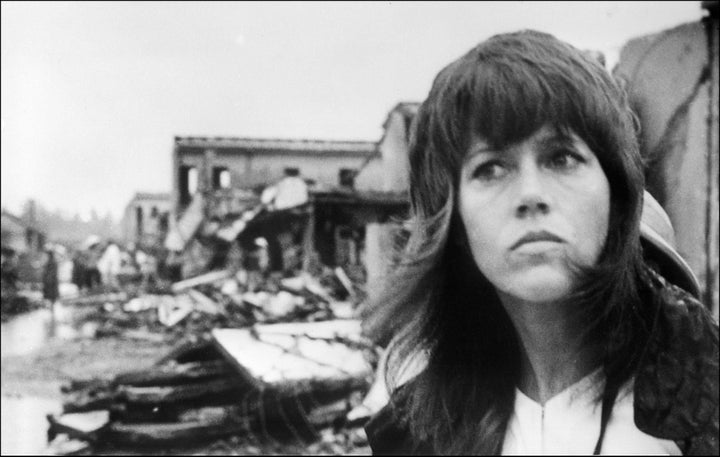 Jane Fonda's representative didn't immediately respond to HuffPost's request for comment, and the star didn't post anything on social media in reference to Kelly's comments.
REAL LIFE. REAL NEWS. REAL VOICES.
Help us tell more of the stories that matter from voices that too often remain unheard.
BEFORE YOU GO
PHOTO GALLERY
Jane Fonda's Sizzling Red Carpet Style