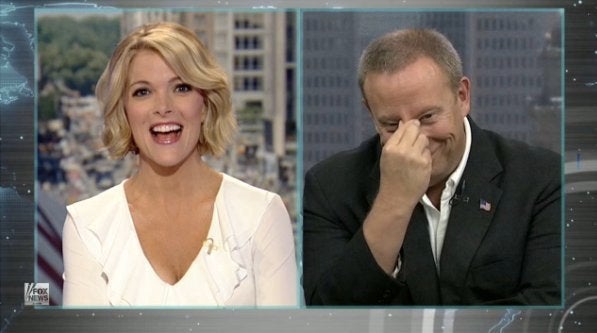 Gallagher had publicly chided Kelly for taking three months' maternity leave after the birth of her daughter, calling it a "racket." A clearly outraged Kelly brought him on "America Live" and tore him to pieces.
"What a moronic thing to say," she said. When Gallagher started to defend himself, she cut him off incredulously. "Are you doubling down? Is maternity leave, according to you, a racket?"
"Well, do men get maternity leave?" Gallagher asked. "Guess what honey?" Kelly thundered back. "Yes, they do! It's called the Family Medical Leave Act. If men would like to take three months off to take care of their newborn baby, they can."
Gallagher kept putting his head in his hands. He tried a humorous tack, saying, "I was drinking that day." But Kelly was not to be deterred:
"I want you to know that the United States is the only country in the advanced world that doesn't require paid maternity leave. Now I happen to work for a nice employer that gives me paid maternity leave. But the United States is the only advanced country that doesn't require paid leave. If anything, the United States is in the dark ages when it comes to maternity leave. And what is it about getting pregnant and carrying a baby for nine months, that you don't think deserves a few months off so bonding and recovery can take place?"
Gallagher had no response. A beaming Kelly declared victory.