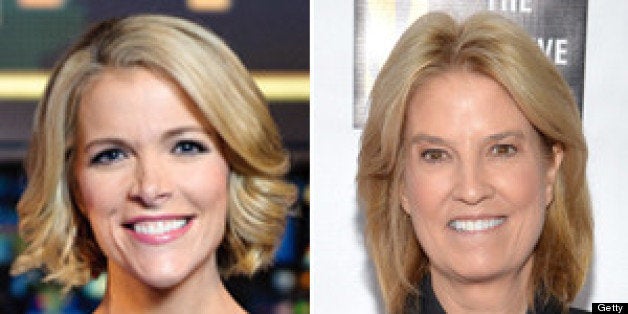 But the answer wasn't particularly straightforward, since Fox News also touted new long-term contracts with all of its current primetime hosts at the same time as it announced Kelly's promotion. Shepard Smith, Bret Baier and Bill O'Reilly all perform well during their respective hours. Though Sean Hannity and Greta Van Susteren's primetime shows hit new lows in the key demographic earlier this year, they are still far and away the top programs in their time slots.
But rumors swirled earlier this year that Kelly could replace the 10:00 p.m. host. Van Susteren addressed speculation about her show in a blog post on Tuesday, saying that she just signed a long-term deal that gives her a primetime show. She wrote:
I have a long term contract with Fox (recently started contract) and it is for a show in "prime time."
Reports surfaced that Van Susteren could host a primetime weekend show, which would give her significantly less exposure on the number one cable news network but satisfy the details she disclosed about her contract. Van Susteren appeared to delete her Tuesday post and replaced it with a new message Wednesday morning, which included an important clarification (emphasis added):
I have a long term contract with Fox News Channel and it is for a daily cable news show in "prime time."
So this would seem to put skeptics back where they started. TVNewser's Alex Weprin speculated that Kelly might not have to necessarily replace any of the Fox News primetime hosts, but could serve as a show's co-host:
"O'Reilly and Kelly," "Hannity and Kelly," "Van Susteren and Kelly," it isn't as far fetched as it might seem (Ok, maybe "O'Reilly and Kelly" is kind of far-fetched).
Similarly, she could also move to an earlier hour, such as 6 or 7 PM. Though normally not considered primetime, they are often thought of that way in cable news. Kelly could co-host with Bret Baier at 6:00 p.m. or Smith at 7:00 p.m. In fact, the combination of Smith and Kelly, two of the network's most popular personalities, could result in a must-watch program, particularly among Fox News' younger audiences. There's also a chance that the network could replace the re-air of "The O'Reilly Factor" at 11:00 p.m. (also not technically primetime) with a new show hosted by Kelly, but that seems far-fetched.
Calling all HuffPost superfans!
Sign up for membership to become a founding member and help shape HuffPost's next chapter
BEFORE YOU GO
PHOTO GALLERY
Megyn Kelly Style Evolution