Fox News host Megyn Kelly is leaving the cable news network for NBC News, the network announced Tuesday.
Kelly will take on multiple roles at NBC. She'll host a one-hour daytime talk show airing Monday through Friday and a Sunday evening news magazine show, and will contribute on breaking news stories and NBC's coverage of major political and special events.
"Megyn is an exceptional journalist and news anchor, who has had an extraordinary career," Andrew Lack, chairman of the NBCUniversal News Group, said in a release. "She's demonstrated tremendous skill and poise, and we're lucky to have her."
The departure is a major blow to Fox News, where Kelly hosted a top-rated 9 p.m. show and was considered a key part of the network's future.
In a Facebook post, Kelly said she was "incredibly enriched for the experiences" she had in a dozen years at Fox News. She'll wrap up her last episode of "The Kelly File" on Friday.
A former litigator, Kelly joined Fox News as a Washington-based correspondent in 2004. She later moved to co-anchoring in the morning, and in 2010, hosted her own show from 1 to 3 p.m. Kelly's coverage at the time often echoed the broader Fox News worldview, such as her obsessive focus on the fringe New Black Panther Party. She also came under fire in 2013 after asserting that Jesus and Santa Claus were white.
In recent years, Kelly repositioned herself as an independent voice among Fox News' more partisan talkers and joined news anchors Bret Baier and Chris Wallace to moderate debates and steer election night coverage. She was the subject of a January 2015 New York Times Magazine cover story that highlighted her tendency to stray from Fox News orthodoxy and the reputation she has gained for aggressively challenging figures on both sides of the aisle.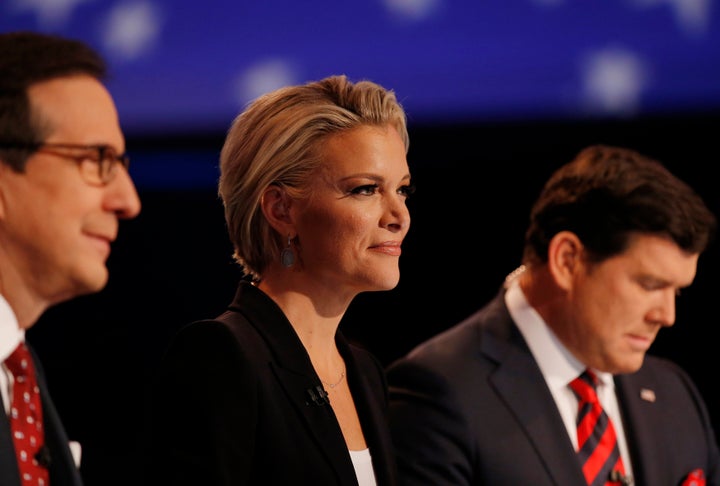 Kelly's national profile skyrocketed during the 2016 election after Donald Trump leveled personal attacks against her and feuded with the network over her coverage. At the first Republican debate, in August 2015, she drew Trump's wrath for asking about his history of misogynistic and sexist remarks. The following day, Trump suggested Kelly was menstruating at the time.
In July, Kelly was again in the spotlight after telling investigators that she, too, was sexually harassed by former Fox News Chairman Roger Ailes. He resigned in disgrace soon after.
Kelly publicly described Ailes' sexual advances in November during the rollout for her memoir, Settle for More. In the book and subsequent interviews after the election, Kelly revealed Trump threatened to turn his millions of Twitter followers against her.
During the election cycle, Kelly's more critical coverage of Trump distinguished her from Fox News' two other primetime stars. Bill O'Reilly was generally sympathetic to Trump in the 8 p.m. slot, while Sean Hannity was the Republican candidate's biggest media booster at 10 p.m.
While Fox News remains the dominant cable news network, the network's primetime line-up is in flux. O'Reilly, whose contract is up later this year, has hinted at retirement and Kelly was viewed as the future face of Fox News.
The Murdoch family, which runs parent company 21st Century Fox, tried keeping Kelly in the fold. She is reportedly making $15 million for this final year of her Fox News contract, and Fox News was said to offer her at least $20 million annually to stay.
In a Tuesday statement, 21st Century Fox Executive Chairman Rupert Murdoch thanked Kelly for her 12 years at Fox News. "We hope she enjoys tremendous success in her career and wish her and her family all the best," he said.
For Kelly, the move completes a yearslong trajectory from anchor on a conservative cable news network to a major TV news personality on a broadcast network. And in launching a daytime show, Kelly will presumably also get to broaden her focus, and potentially appeal, to audiences beyond cable news politics junkies.
The New York Times, which first reported on Kelly's move to NBC, noted she was also considering opportunities at ABC and CNN. Though the terms of the NBC deal weren't announced, the network may not have matched Fox News' offer. Indeed, Kelly's representative said Tuesday that "money wasn't the driving factor."
This post has been updated with further details on Kelly's career.