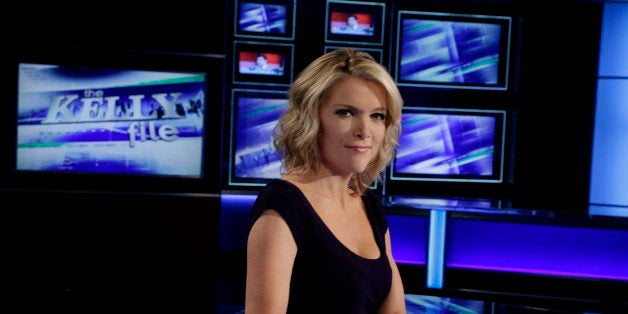 Fox News' Megyn Kelly has long been singled-out for her good looks, and a recent profile in The New York Times Magazine details just what her Fox News colleagues first thought of the journalist.
Senior political analyst Brit Hume told the magazine that Kelly, an "attractive-looking blond" anchorwoman who could "speak with a fierce authority," was so rare and appealing. Hume's wife, Fox Washington bureau chief Kim Hume, was also the first person to receive a tape from Kelly when she was looking to join the network.
"Attractive-looking blond anchorwomen are not rare," Brit Hume, now a senior political analyst, told me. "Attractive-looking blond anchorwomen who speak with a fierce authority are rare. In fact, attractive looking anybody who speaks with that kind of authority are rare." Even better, he said, "she believed in our mission, and she thought that the news was not balanced properly the way it was being presented by the other main outlets, and that was part of the reason she was interested in coming here. That combination, to say that's rare -- it's off-the-charts rare."

Hume sent her tape to Roger Ailes, who did not need much convincing. "She's obviously a beautiful girl, beautiful woman and very intelligent, law degree, a lot of credentials there," he recalled when I spoke to him in December. "She has an excellent voice, and a lot of people overlook voice." Best of all, he said, she reminded him of "the kids I hired here who go to SUNY and work two jobs and try to make it."
And according the Ailes, this is just the beginning for Kelly.
"We've been on the air for 18 years. She shows up, and in one year goes to No. 2 and close to No. 1. That is an astounding accomplishment," he told the magazine. "Before this is over, she may be bigger than anybody."
Kelly also revealed that while Fox News was her top choice, had she received an offer from MSNBC 10 years earlier, she would have accepted.
"I'd have done O.K. there, too," she added.
REAL LIFE. REAL NEWS. REAL VOICES.
Help us tell more of the stories that matter from voices that too often remain unheard.