My name has always been a matter of pride and wonder to me. Partly as a result, I traveled this year to Estonia, the land of my ancestors on my father's side. We have a long history there, us Kolls. We originally come from a small village called Palamuse in the County of Jogeva and our last name is very old -- it means ghost or "boogey man" and is a holdover from the pagan days.
I was not raised with Estonian tradition and always wondered just what that would have been like, given that it is a very small country.
That's why when I came upon Mei Xian Qiu's work as part of my work with curator Peter Frank's Trans Angeles show (which opened in April in Germany), I was intrigued and excited to find out who she was and perhaps know more about her history.
It turns out she has 3 names. Being Chinese and raised in Indonesia, early in life she was subject to the cyclical violence and prejudice that gets whipped up by the people pulling the strings there. Her first given name is Indonesian: Siryana. The second is Chinese: Mei Xian Qiu. Her third name is American -- Cinderella, or Cindy (which she was required to get while in Indonesia -- just in case she ended up here.) Of course it was illegal to be Chinese -- to practice its traditions -- in Indonesia.
When her family moved to the U.S. for the last time, escaping the genocide inflicted on the Chinese and looking for a new life, she embraced her heritage and set about finding out about it -- including visiting China several times. She notes that stereotypes about the Chinese people are pervasive, and a majority of Chinese have shed their cultural heritage in favor of a more Western aesthetic, not just the many who have emigrated here. As part of that journey she moved from painting to photography to help her express her motivations and message.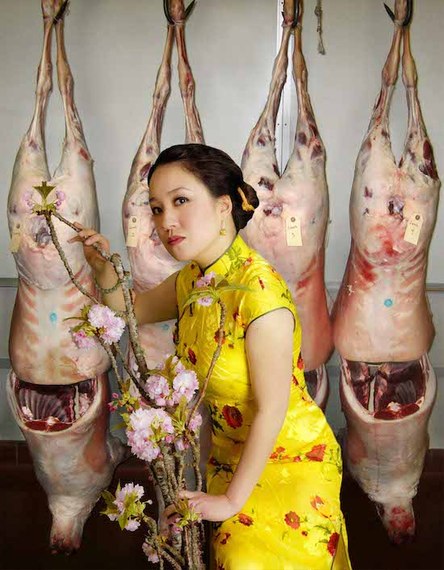 Cherry Blossoms, 2012. Photograph on Plexiglass Substrate
Using carefully staged -- yet appearing completely natural - subjects of varying ethnicity according to where she is in her research, often dressed in clothes she designs and sews herself, she juxtaposes assumptions about ethnicity and custom with Pan Asian, Chinese, and Western motifs.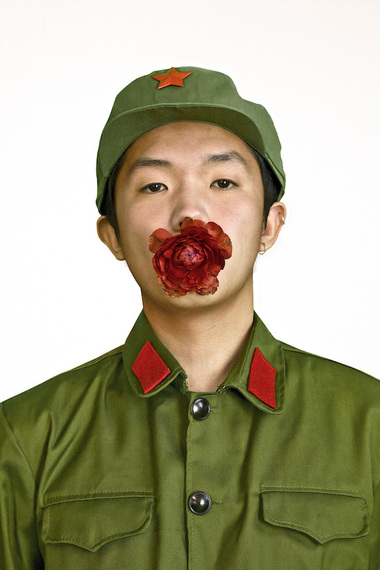 Jeremy Flower, 2010. Photograph on Plexiglass Substrate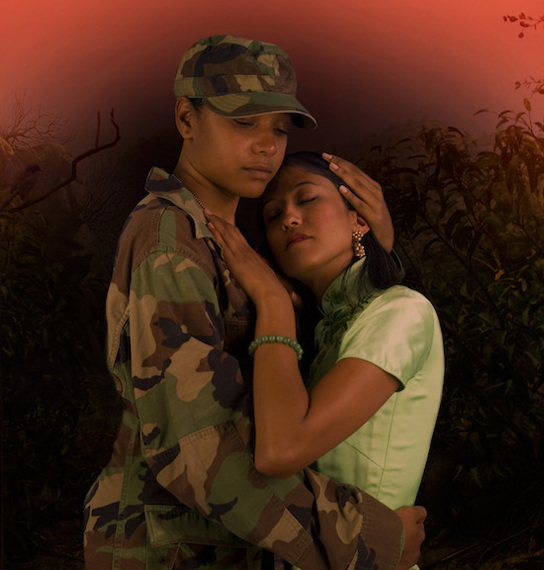 Madonna, 2012. Photograph on Plexiglass Substrate
The result is at once prescient and provoking. Whether one is able to recognize the people's identity (sometimes mixed race), their personality comes through first, followed by objects and symbols that create questions about our understanding of their cultures. Or perhaps Mei Xian Qiu has created an illusion for us -- their view of themselves -- but either way it doesn't matter. She has an innate ability to create an environment where the people in the photographs feel comfortable in their own skin.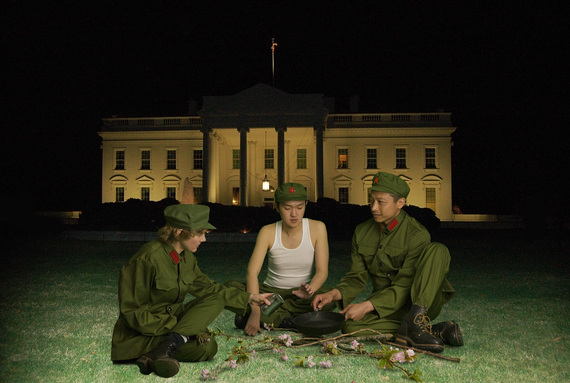 White House, 2010. Photograph on Plexiglass Substrate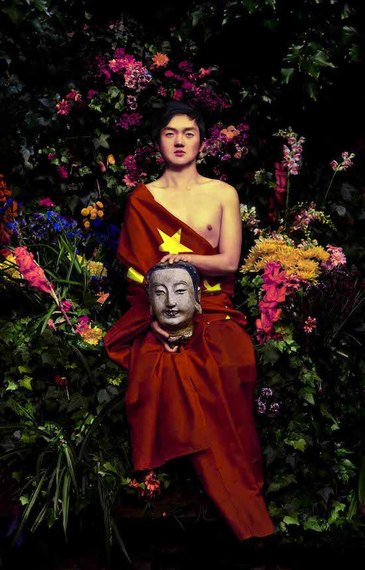 5 Star, 2010. Photograph on Plexiglass Substrate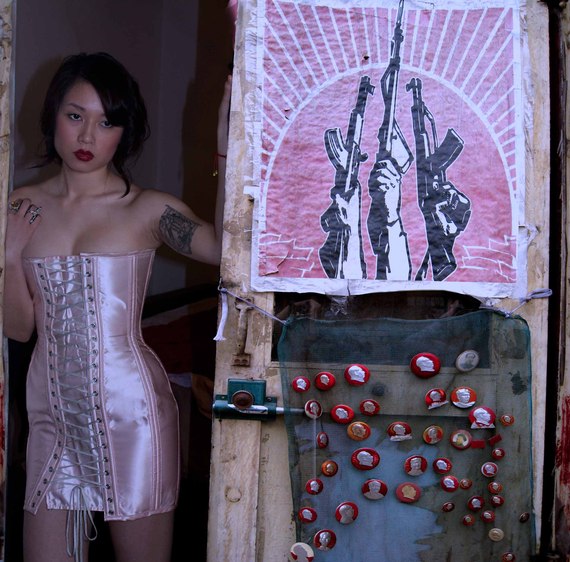 8801, 2012. Photograph on Plexiglass Substrate
Despite the often surrealistic nature of these tableaux, you feel like you're actually there and empathize with the characters. When you place your own prejudices (we all have them) onto your initial view of the pictures, you find yourself asking some very important questions.
Who are we? Does our global reach from one end of the earth to the other now require us to become homogenized just to survive? Does that alter the desire to stand out in a crowd? Can we actually be original in our work?
These questions, and more, form the basis of Mei Xian Qiu's extensive body of evocative, personal, yet worldly work, and illustrate for us how it can sometimes be all about what you call yourself.
Mei Xian Qiu will be showing her photographs in Art Basel from from June 14 - August 1 during Los Angeles Contraventions at Galerie Merkel, Baslerstrasse 2, 79639 Grenzach-Wyhlen Germany.
Calling all HuffPost superfans!
Sign up for membership to become a founding member and help shape HuffPost's next chapter