Giant panda Mei Xiang (may-SHONG) gave birth to a cub at the Smithsonian's National Zoo 5:32 p.m. The panda team heard the cub vocalize and glimpsed the cub for the first time briefly immediately after the birth. Mei Xiang picked the cub up immediately and began cradling and caring for it.
All eyes were on the National Zoo's panda cams after the zoo broke news on Friday afternoon that giant panda Mei Xiang had gone into labor.
On Friday at 5 p.m., it was too soon to say if Mei Xiang would give birth to an actual baby, said Zoo spokesperson Jennifer Zoon.
Zoon told The Huffington Post that "we can't confirm pregnancy/pseudopregnancy until we either see or hear a cub -- so stay tuned to the Panda Cam!"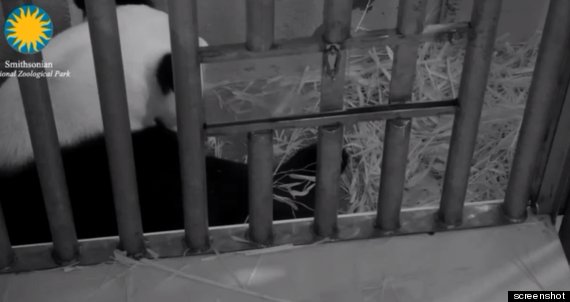 They've been a little wonky, with so many people tuning in to see a baby panda being born. In case you're having trouble getting through, watch this video of a baby panda meeting its mom for the first time.
Paws crossed for our girl in Washington!