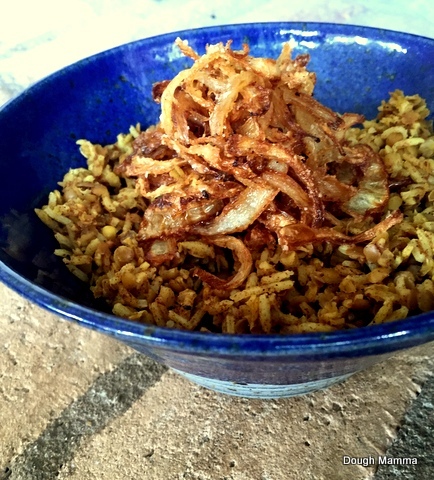 If you have had a hard time watching the news lately and are feeling rather despondent about world affairs, discovering how people are invoking positive change amongst the chaos, can help restore our confidence in human beings. One notable example is an Israeli cafe, called the Hummus Bar, who is currently offering a 50% discount on hummus, to Jewish and Arabic patrons who choose to share a table with one another. The offer was made in hopes of bringing people together and to demonstrate that not all Arabic or Jewish residents support the wave of terror that has recently escalated in Israel. Can hummus lead to world peace? I don't know, but I do know that it's a start and I am a big believer that small steps can make large impacts.
Mejadra is a delicious comfort food popular in the middle east. Made with lentils, basmati rice, aromatic spices and crunchy friend onions, this comforting delicacy will quickly make your worries dissipate. If you are anything like me and the word lentils sends you running for the hills, have no fear, these lentils are well spiced and heavily camouflaged by the rice. Add some yogurt and a fried egg and we're talking a household staple good enough for breakfast and dinner.
Feel like spreading a little peace and love around this beautiful-crazy world? Start by breaking bread with others. Invite a lonely neighbor over to dine. Drop off this delicious meal to a new mom or a sick friend. These small acts of kindness can and do shift our collective consciousness. Lets come together folks. We don't have to line the streets with picket signs (though that's great too), lets just take a moment and share some kindness with one another - I guarantee we can all make a difference.
Peace!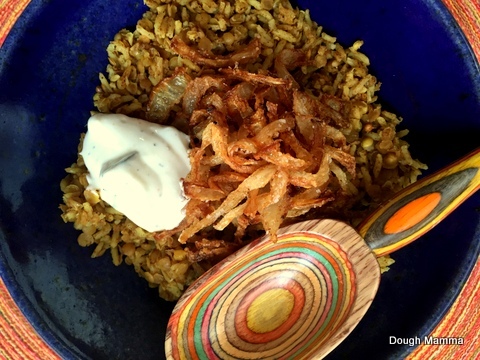 Title: Mejadra for Peace
Author: Adapted from the Jerusalem Cookbook
Prep time: 30 mins
Cook time: 30 mins
Total time: 1 hour
Serves: 6
Notes: This recipe calls for green lentils, but I prefer the red, so that was the lentil I used to make my dish. This recipe also calls for 4 medium onions, this will leave you with a lot of fried onions, so 2-3 is probably more realistic. Add a fried egg and/or a side of yogurt to add some brightness to the dish. I also used canola oil instead of sunflower oil, which worked just as well.
Ingredients
1¼ cup of green or brown lentils
4 medium onions (1½lbs)
3 Tbsp of AP flour
1-2 cups of Sunflower oil
2 tsp cumin seeds
1½ Tbsp coriander seeds
1 cup of basmati rice
2 Tbsp olive oil
½ tsp ground turmeric
1½ tsp ground allspice
1½ tsp ground cinnamon
1 tsp sugar
1½ cups water
salt and pepper to taste
Instructions
Place the lentils in a pot, cover with plenty of water, bring to a boil and cook for 12-15 minutes or until soft but maintains a bit of "bite". Drain and set aside.
Peel the onions and slice thinly (1/4 inch). Place sliced onions on a plate and sprinkle with flour and 1 tsp of salt. Mix well with hands to coat evenly.

Heat your oil in a heavy bottom pot over medium-medium/high heat. Place ⅓ of the onions in the pot and fry for about 5 minutes, or until golden brown, using a slotted metal spoon or a "spider" to stir onions every so often. Use the spoon to transfer fried onions to a paper-towel-lined strainer. Continue in batches.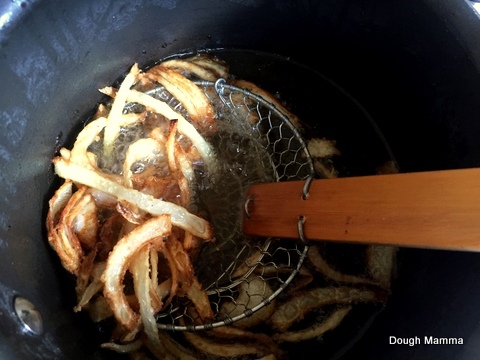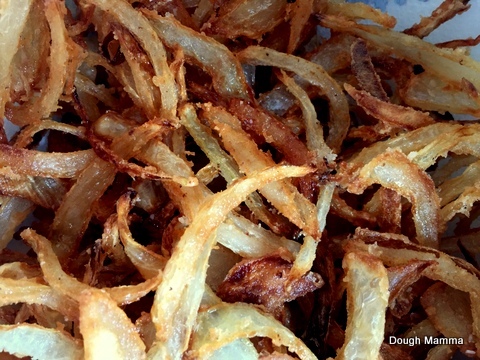 Wipe the saucepan in which you friend the onions, leaving some oil behind to lightly coat the pan. Place your cumin and coriander seeds in the pan and toast for a few minutes over medium heat, making sure to shake your pan every so often.

Add the rice, olive oil, turmeric, allspice, cinnamon, sugar, ½ tsp salt and plenty of black pepper. Stir to coat the rice with oil. Add cooked lentils and the water. Bring to a boil, cover with lid and simmer on very low heat for about 15 minutes.

Remove from heat, lift off the lid and quickly cover with a paper towel. Seal tightly with the lid and set aside for 10 minutes.

Fluff with a fork. Serve warm, top with fried onion. Add fried egg and/or yogurt.