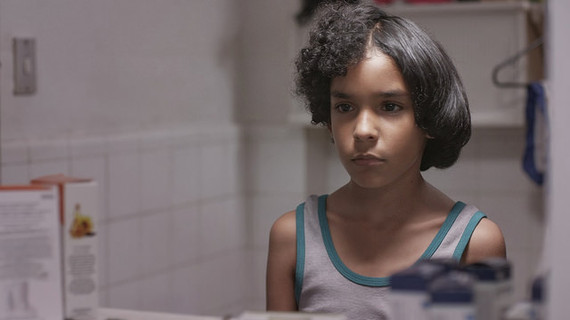 Samuel

Lange

Zambrano

portraying a 9-year-old Venezuelan boy obsessed with straightening his hair in the 2013 film
.
'Mejorar la raza' is a common phrase used in Latin American countries, which means 'improve the race.' It implies that you should marry or have children with a whiter person so you'll have better-looking kids. The phrase is used by people of any race without much thought. A year ago, a Facebook post by a Latina living in Europe started a heated argument about the history of whitewashing in Latin America. She said 'mejorar la raza' to justify the massive rape of Indigenous women by European colonizers. A few hours later, the girl erased the post and dismissed it as a joke. I like to hope she felt embarrassed after being called a racist on social media.
As a child, I heard my aunt asking my cousin to break up with the girl he was dating because he should 'mejorar la raza'. Her biggest concern seemed to be the girl's Afro-Latino heritage, "You don't want to bring ugly kids into the world. What if you have a girl and she comes out with pelo malo?" My aunt thought she was talking some sense into her son. After all, "pelo malo" literally translates to 'bad hair' but it really means 'afro-textured hair.' She didn't think she was being racist or mean-spirited, she thought it was her duty to point out how hard her imaginary granddaughter's life will be if she inherited her mom's curls.
Her argument didn't add up. I was a light skin young girl with dark skinned grandparents, aunts, uncles and cousins. I was very confused, those were her relatives too. My aunt wasn't even white herself. Why did she, like many other Latinos, justify racism with standards of beauty? Why do we associate improvement with whiteness? Why do we call afro-textured hair 'bad hair'? Why were the women around me obsessed with straight silky hair? I'm still pondering these questions almost 20 years later.
This subtle form of racism is so ingrained in our culture that people measure themselves unapologetically against the supposed standard of beauty. In Venezuela, I remember friends of mine saying, "Yo soy negrito, pero un negrito fino," which literally translates to "I am a little black person, but a fine little black person." The Spanish diminutive suffix 'ito' is commonly used to infer small and less harsh. Instead of identifying yourself as black, you add 'ito' to reduce your blackness. Followed by the use of 'fine,' which usually means you have whiter facial features such as a thin nose or lighter eyes. To fit into a socially constructed mold, my peers felt the need to highlight their whiteness.
Now as an adult, I see how subtle and deep racism can be in Latin culture. Children aren't born racist, they learn racist behaviors as they grow. We have to be mindful of how language describes us, how we talk about others, and what we teach our children. We perpetuate the stereotypes that diminish the unmeasurable value of our multicultural ethnicity -- we shouldn't be glorifying one race over the other.
Arlene Davila, Professor of Anthropology, Social and Cultural Analysis at NYU pointed out on NPR some think that on Latino television "you can't apply the same standards of racism because we have our humor and we are not racists, because we are Latinos, and we can get away with that without getting regulated." But just because we're a minority doesn't give us a free pass.
Earlier this year, the Venezuelan talk show host, Rodner Figueroa, was fired from Univision after comparing the First Lady to an ape on El Gordo y La Flaca. News of the dismissal quickly spread across American media. The New York Times reported Figueroa's now famous line, "Well, watch out, you know that Michelle Obama looks like she's from the cast of Planet of the Apes." He immediately justified his remark saying, "but it is true." Whether the comment was racist enough to justify an immediate discharge from the network is not in question. Who would blame Univision for firing Figueroa? For a Spanish language network that's established itself amongst the most viewed in the country, taking a firm stand against racism is essential.
TV networks should do their part reprimanding racist marks and by representing us more fairly in their programming. Latinos come in all races, colors and flavors; which is why 'mejorar la raza' shouldn't have a place in our community. For Figueroa, his comment came with a high price. For the rest of us, we might not get fired for saying racist things but we're still responsible and liable for them.
Popular in the Community