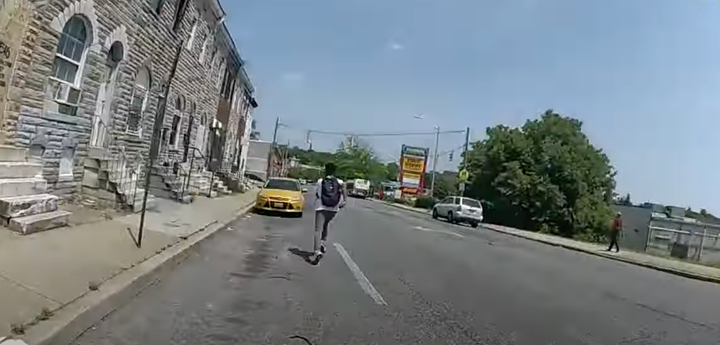 Baltimore police released body camera footage on Tuesday showing an officer shooting a Black teenager in the back as he fled. The officer shouted a demand for the teen to drop a gun, and then quickly fired. The teenager was badly wounded and lost several organs, and police said they discovered a gun with him following the shooting on Thursday.
Mekhi Franklin, 17, can be seen on camera walking on the sidewalk with someone. Witnesses told local media outlet The Baltimore Banner that police officer Cedric Elleby was sitting on a stoop with Franklin before the shooting. Franklin gets up and begins to walk away; Elleby follows him.
It is unclear what the officer said to Franklin and the other individual when he approached them, but the two stop and they briefly talk.
Audio then comes on. "Come here," Elleby says to Franklin, to which the teenager replies: "What bro?" Elleby then lunges at Franklin, trying to grab him, but Franklin pulls away and begins to sprint in the opposite direction.
Warning: The video below contains graphic footage.
Elleby chases Franklin through a grassy area, a back alley, and then nearby the sidewalk in broad daylight. The chase lasted for about 30 seconds.
Elleby shouts at Franklin to stop and put the gun down, after he pulls what appears to be a firearm out of his pants. The gun appears to still be in Franklin's hand, but the footage does not show Franklin turning toward Elleby or pointing the gun at him during the foot chase.
Elleby then fires four shots, and Franklin collapses in an alley in front of a rowhome. The gun can be seen laying on the ground away from his body.
An emotional and chaotic scene followed the shooting, with residents arriving at the shooting scene as Elleby and another officer attempted to render aid to Franklin. Voices are heard shouting in the background.
"You just shot him for nothing," one civilian is heard saying in the background.
Baltimore Police Deputy Commissioner Richard Worley told the media in a press conference the day of the shooting that Elleby was on patrol in the area and saw Franklin "displaying characteristics of an armed person."
Police said Elleby is part of the department's district action team, which are plainclothes units tasked with "proactive" policing that focus on armed people, making traffic stops and foot chases.
The Maryland Attorney General's Office said they are not investigating the shooting at this time, but Mayor Brandon Scott has promised a thorough investigation. Keira Franklin, the mother of the teenager, said this is not the first time police harassed her son.
"This happened previously with the same police officer," she said.
Popular in the Community