"We didn't know if they were after Communists, Jews, or just short people."
With that great one-liner, Mel Brooks, the funniest man in the world, defuses -- no, ridicules -- the McCarthy hearings and blacklist that terrorized the entertainment industry in the early 1950s.
Together with his longtime friend and indispensable straight-man, Carl Reiner, Mel Brooks delivered 45 minutes of bliss to a sold-out American Cinematheque audience Friday night. Like, you died, went to heaven, and headlining in heaven: Brooks and Reiner doing stand-up comedy. Happiness filled the Egyptian Theater as the two alta cockers swapped schtick.
The kibitzing followed a screening of "Ten From Your Show of Shows," a compendium of comedy sketches from the brilliant early television program that starred Sid Caesar and Imogene Coca.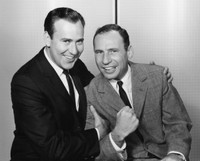 Reiner, now 88, shines in the clips as a durable and versatile straight-man foil to Caesar's explosive shenanigans. Brooks, now 84, was a young writer on the show, and a protege of Caesar. Asked how he first joined "Your Show of Shows," Brooks said, "I wandered in off the street. It was a warm place. There were doughnuts and coffee."
"The first time I heard Mel," said Reiner, "He did a thing about a Jewish pirate. He was complaining about how hard it was to set sail. I was laughing hysterically. A Jewish pirate. That voice was the genesis of the "The 2000 Year Old Man."
Said Brooks, "The voice was based on my uncle and my grandmother. The only word my grandmother knew in English was subway."
Reiner continued: "Mel was obstreperous and he was also late. He had a problem waking up. But Mel was a firecracker. Sid wanted him there."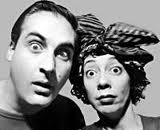 "I was working in the mountains [Catskills]," said Brooks. "I was a bus boy and a drummer. Sid was a tenor sax player and a comic on the side. I got to know him. Don Dell took me to the Copacabana to see him. Max Liebman ["Your Show of Shows" producer] was there, talking about a thing called television. I said, 'What am I a wrestler?' [wrestling dominated early television], but he said, 'Milton Berle is on it.'"
"They were taping at the International Theater, a little theater at Columbus Circle. They needed a few jokes. The genius Mel Tolkin was head writer -- a terrific composer and comedy writer, and father of Michael Tolkin [he points to MT, in the audience, looking pleased]. I threw in a few jokes about an airport interview and Tolkin liked it. It was "Jungle Boy" arriving at Idlewild Airport. Like, "Jungle Boy, what is the most frightening thing for you in New York City?" And Jungle Boy barks, "BUICK.""
"Sid hired me to be his personal writer and stooge. I got him corned beef sandwiches," said Brooks.
The 90-minute weekly "Your Show of Shows" was "truly a live show. We were absolutely live. There were only two [full-time] writers Lucille Kallen and Mel Tolkin. I did additional writing. We had serious writers who were amazing. We'd all pitch, all be screaming jokes, to get the favor of the king [Caesar]."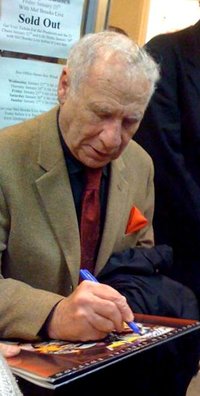 "I went to Chicago to help Sid on his act at the Palmer House. It was 12, 1 a.m. I was tired. Sid was smoking, I couldn't breathe. 'Sid,' I said, 'I need air.' He held me out the 8th floor window by my feet. I could see the traffic on Michigan Avenue. 'Enough air?' he asked me.
"Sid was strong. One day he couldn't park his car in Manhattan so he picked up a Volkswagen [in two lifts, one front, one back] and parked in the space. Guy comes out and his car is on the sidewalk."
Answering questions from the audience, Brooks said: "Sketch writing is an art. It has to have a beginning, middle and end. It has to have characters. At "Your Show of Shows," we tried to write about things people understood."
What about Woody Allen? "He was in the writer's room, but he didn't work on "Your Show of Shows." He was 18 years old. He did four specials, 'Sid Caesar Presents.'"
"He's a genius," said Brooks, "but not as good as I am."
What does Mel Brooks find funny today? "I like 'Family Guy.' That's a very funny show. I like Steve Carrell. And Dave Chappelle was wonderful, truly a creative talent. I put him in 'Robin Hood - Men in Tights.'"

Related
Popular in the Community