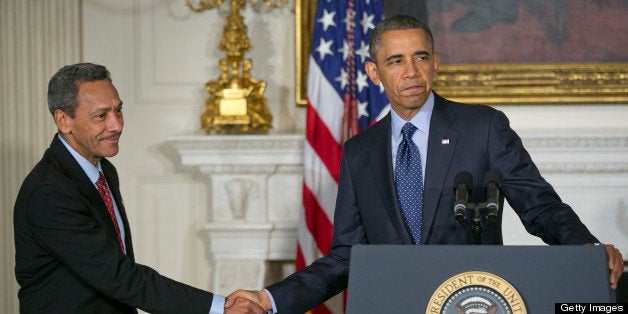 BOSTON -- The White House, long bedeviled by shortcomings in its housing programs, received two boosts Wednesday when its pick to lead a key housing agency received support from some Republican lawmakers and its approach to aiding the housing recovery was validated by an independent government agency.
Mel Watt, President Barack Obama's choice to oversee the the Federal Housing Finance Agency, was endorsed by Sen. Richard Burr (R-N.C.) and praised by Rep. Spencer Bachus (R-Ala.), a former House Financial Services Committee chairman, shortly after Obama announced that he wanted the 11-term Democratic Congressman from North Carolina to lead the agency, which oversees government-controlled mortgage financiers Fannie Mae and Freddie Mac.
"Congressman Watt has played an integral role in the financial services committee's deliberations on housing policy and is known as a serious and substantive legislator," Bachus said. "In my experience working with him on a variety of issues, I have always personally respected Congressman Watt for his intellect, attention to detail, and dedication to serving the public."
Burr said that he was "confident [Watt] will work hard to protect taxpayers from future exposure to Fannie Mae and Freddie Mac."
Democrats and liberal groups cheered Watt, and House Minority Leader Nancy Pelosi (D-Calif.) praised the longtime lawmaker and consumer advocate. Many also expressed joy that the FHFA's current acting chief, Edward DeMarco, may soon be shown the door.
Sen. Elizabeth Warren (D-Mass.) called for the Senate to quickly confirm Watt "so he can get to work stabilizing shaky housing markets and helping struggling homeowners." Until then, she said, Obama should "remove" DeMarco, in part due to what Warren called his "cold indifference to work with families struggling to save their homes."
An FHFA spokeswoman did not immediately return a request for comment Wednesday.
A career civil servant, DeMarco has returned Fannie Mae and Freddie Mac to record profitability, attempted to shrink their dominance over the U.S. housing industry, and has set the stage for a future in which they no longer exist and private capital has a greater influence over how home loans are funded.
DeMarco also has led Fannie and Freddie in their efforts to help troubled borrowers avoid foreclosure. The companies have modified more than 2.2 million mortgages since they were rescued by taxpayers in 2008.
DeMarco's unwillingness to allow Fannie Mae and Freddie Mac to forgive housing debt has been "really frustrating", Coakley said. "He's been a real roadblock."
Watt's fans and advocates of debt-forgiveness also received some validation from a separate report from the Congressional Budget Office made public on Wednesday, which found that a mortgage forgiveness program for distressed borrowers would reduce foreclosures, shrink the federal deficit and slightly lift the economy.
CBO determined that a loan-forgiveness scheme on loans owned or guaranteed by Fannie Mae and Freddie Mac would lower the number of home seizures while also saving taxpayers more money than if the companies continued with their current policy of not forgiving debt.
DeMarco has defended his decision to disallow loan forgiveness by pointing to an estimated increase in taxpayer costs for such a program. But the CBO report predicted savings of $2.8 billion for the U.S. Treasury under a a debt-forgiveness scheme, casting doubt on that justification.
A report last week from Standard & Poor's also found that loan principal forgiveness was more likely to keep troubled borrowers current on their modified loans than other types of loan workouts. S&P analysts said private mortgage companies have increasingly used debt-forgiveness as a tool when modifying distressed mortgages.
The White House still faces long odds in securing Senate confirmation for Watt, analysts said. Despite support from Burr and Bachus, other Republicans either voiced concern or disapproval of the nomination.
"I could not be more disappointed in this nomination," said Sen. Bob Corker (R-Tenn.). "This gives new meaning to the adage that the fox is guarding the hen house."
But on Wall Street, analysts are already preparing clients for possible market movements should Watt eventually take the post.
Bank of America analysts led by Ralph Axel said a Watt confirmation would lead to higher valuations of non-government guaranteed mortgage-backed securities, since a Watt-led FHFA likely would enable borrowers with non-government guaranteed loans to refinance into mortgages backed by Fannie Mae and Freddie Mac. However, Axel warned that "aggressive" policy action would delay the return of private capital back into home loans.
Prices of Fannie Mae and Freddie Mac-backed mortgage bonds that held high-interest rate loans fell on Wednesday, according to Tradeweb data, an indication that bond investors fear that an FHFA led by Watt would enable greater numbers of homeowners to refinance their home loans.
REAL LIFE. REAL NEWS. REAL VOICES.
Help us tell more of the stories that matter from voices that too often remain unheard.
BEFORE YOU GO
PHOTO GALLERY
What The GOP Doesn't Want You To Know About The Deficit