The professional website of Melania Trump, wife of the Republican presidential nominee, has apparently been deleted from the internet as of Wednesday afternoon.
The disappearance of Trump's elaborate website comes just days after news outlets, including The Huffington Post, raised serious questions about whether she actually earned an undergraduate degree in architecture from the University of Ljubljana, which is in Trump's native Slovenia. Her online biography claimed she had, but a book about her life published earlier this year says she left the university after one year so she could pursue a modeling career.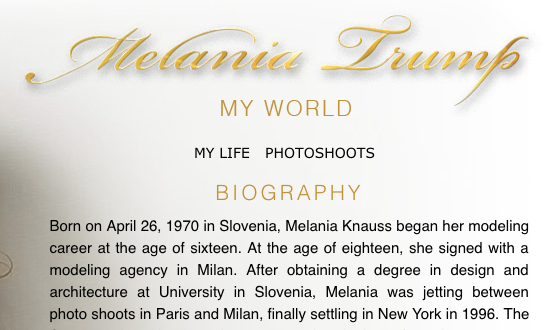 Embellishing Trump's educational achievements in her online biography "was almost certainly done in consultation with Trump and his advisors, as they were desperate to give off the impression that the Slovenian model was not just beautiful, but also smart and well-educated," according to Melania Trump: The Inside Story, an unauthorized biography of the potential first lady.
Questions about Trump's educational background gained a new sense of urgency last week, after she delivered a keynote at the Republican National Convention that had been plagiarized from a speech current first lady Michelle Obama gave at the Democratic National Convention in 2008.
When pressed about the subject last week, a campaign spokeswoman declined to confirm or deny whether Trump had earned the degree. The refusal to answer questions about Trump's education quickly sparked speculation about whether other parts of her biography were untrue.
A campaign spokeswoman did not immediately reply to HuffPost's questions on Wednesday about the deleted website and online biography.
Digitally speaking, all we have to go on is that an internet archive of Trump's homepage shows that it was taken down in the last week. According to that archive on Wednesday afternoon, this was what remained of www.melaniatrump.com.

Despite the apparent attempts to scrub Trump's biography, there are older versions of her website available in online archives, which contain the claim that she earned a degree in design and architecture. Below is one of them, from 2012: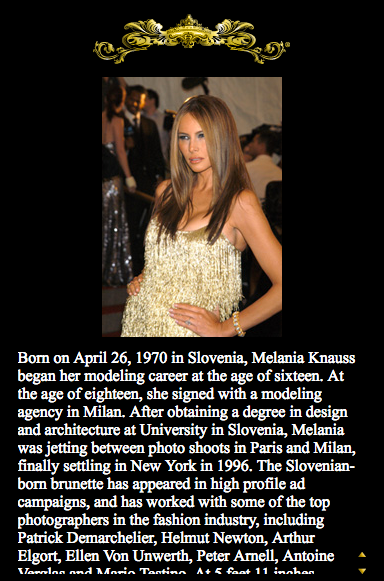 MelaniaTrump.com now redirects to a home page for husband Donald Trump's golf resorts and rental properties.
The "biography" portion of that site does not mention his wife. Archived pages of this professional site indicate that this is not new, and that the businessman's online biography hasn't referenced his wife for at least five years.
Donald Trump's presidential campaign biography references his wife one time, and does not provide any details about her life or her qualifications to be first lady. The site simply says that the GOP nominee "is married to Melania Trump and father to Donald Trump Jr., Ivanka, Eric, Tiffany and Barron."
UPDATE, July 28: Melania Trump addressed the disappearance of her website in a tweet on Thursday.
"The website in question was created in 2012 and has been removed because it does not accurately reflect my current business and professional interests," the tweet reads.
Popular in the Community