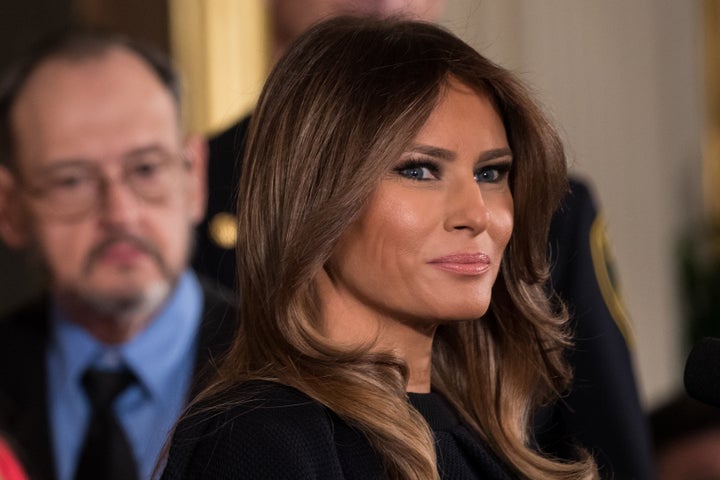 It was also a little unexpected: The nonprofit that created the campaign learned about the visit along with everyone else.
"We were very surprised to see our hashtag being promoted by the First Lady's office," said Laura Talmus, executive director of Beyond Differences, which designed the No One Eats Alone program. Talmus co-founded the organization with her husband, who happens to have served as state director for Hillary Clinton's 2008 presidential primary campaign in California, Texas and North Carolina.
Still, Talmus welcomes the opportunity to work with anyone who is "serious about making a difference among middle-school children." That means "every day of the year, not just once," she added.
So, how did Melania Trump learn about the campaign? "Doing research for her initiatives," explained Stephanie Grisham, her spokeswoman, in an email to HuffPost. "She knew the school participated in such a program and wanted to make the visit in order to learn more and also shine a light on the importance of kindness and inclusion."
News outlets were quick to suggest that Trump's school visit is a sign that her plan to combat cyberbullying is, at long last, steaming ahead. ("Melania resumes doomed effort to curb her husband's favorite pastime," is how Vanity Fair put it in a headline.)
But that is not exactly the case. The first lady has "visited many schools," Grisham said, "so the visit in Michigan should in no way be characterized as a 'bullying prevention campaign.'"
As for the anti-bullying initiative itself, nothing has been announced yet, according to Grisham. "We are not discussing these kinds of details at this time," she replied to a question about whether the first lady's office plans to follow up with Beyond Differences about No One Eats Alone. But, she added, the office looks "forward to announcing her formal platform in the coming months."
"We are not discussing these kinds of details at this time, but look forward to announcing her formal platform in the coming months."
More than eight months into the Trump administration, it's anyone's guess what that platform might look like. For context, former first lady Michelle Obama announced she was going to plant a vegetable garden in order to educate children about health in March 2009, a couple months after her husband's inauguration. Not long after, she invited students to the White House to draw attention to the issue. However, she did not officially launch her signature "Let's Move" campaign, combating childhood obesity, until February 2010.
On Nov. 3, 2016, Melania Trump gave a speech in which she promised that, as first lady, she would work to combat cyberbullying, particularly against kids. The pledge received some skepticism, given her husband's penchant for attacking his foes on Twitter using choice epithets like "dummy dope," "clown," "psycho," "dumb as a rock," "a neurotic dope" and "disgusting (check out sex tape and past)."
Still, Melania Trump is an "independent woman," Grisham said, and bullying prevention experts are pleased that she plans to tackle the issue. But so far, groups that would like to lend ideas to the initiative say they still have not heard back.
In April, the first lady was honored at a luncheon for spouses of U.S. senators. Grisham said the spouses had donated to PACER's National Bullying Prevention Center, a group that provides resources to students, parents and educators to combat bullying.
"I sent a letter back to [Trump] thanking her for being involved in this issue," said Paula Goldberg, the executive director of PACER Center. She wasn't aware of any follow-up, but noted she has had substantial contact with the office of Education Secretary Betsy DeVos. (The first lady and DeVos visited the Michigan school together.)
When HuffPost asked whether the first lady has followed up with PACER, Grisham said, again, "We are not discussing these kinds of details at this time, but look forward to announcing her formal platform in the coming months."
In September, the first lady hosted a luncheon, this time at the U.S. Mission to the United Nations, where she focused on a number of issues. "Whether it is drug addiction, bullying, poverty, disease, trafficking, illiteracy or hunger, it is the children who are hit first and hardest in any country," she said.
Sameer Hinduja, co-director of the Cyberbullying Research Center, which provides information about cyberbullying among adolescents, said the first lady had not reached out to him or his group, though he added that "we'd be happy to work with her."
"I think it's important to connect with youth and be visible, and so I applaud the First Lady for doing that with her visit to the school in Michigan. It absolutely has symbolic value," Hinduja wrote in an email.
He added, "I am sure she (and others) would agree that much more needs to be done on a substantive level. I trust that will be built into her overarching plan."
Nine people work for the first lady, about half than the number who worked for her predecessors, according to The New York Times. The paper reported last week that she had not yet hired a director of policy.
"Melania is off to a good start," said Pamela Hurst-Della Pietra, founder and president of Children and Screens: Institute of Digital Media and Child Development. She would like to see the first lady convene a series of interdisciplinary workshops on cyberbullying, and pointed out that her organization has particular expertise on leading these kinds of workshops. Though Hurst-Della Pietra said she has reached out several times to the first lady, she said she has not yet received a response.
Asked which experts the first lady's office has reached out to about bullying prevention, Grisham repeated her response to the other queries: "We are not discussing these kinds of details at this time, but look forward to announcing her formal platform in the coming months."
She also declined to elaborate on what steps had been taken as part of the bullying prevention campaign. "Again," she said, "there has been no formal announcement of anything yet." The first lady "will continue to lend her voice and support to many different issues that have an impact on the well-being of children," she added.
Talmus, of the No One Eats Alone program, pointed out that many children "are having feelings of anxiety around being different," listing Muslim and LGBTQ youth as examples. Solving that is "not just a one-day event, it's a value; it's something that needs to be transmitted to children who are feeling especially fearful today because of all the rhetoric and hate," she said.
Plenty of anti-bullying organizations would love to work with the first lady on her platform. When asked how her office will decide which organizations to work with, Grisham said, for a fourth time, "We are not discussing these kinds of details at this time, but look forward to announcing her formal platform in the coming months."
This story has been updated to include information about Michelle Obama's "Let's Move" campaign.
Popular in the Community