First lady Melania Trump racked up an astonishing $95,000 tab at a Cairo hotel at the end of her African goodwill tour last month, according to federal records.
The first lady's spokeswoman, Stephanie Grisham, was furious that the initial report — later picked up by The Hill — said Melania Trump spent the night at the Semiramis Intercontinental Cairo. In fact, she spent only six hours there, Grisham told both Quartz and The Hill in angry Twitter posts.
Grisham complained that, "sadly, the damage from this false reporting is done," referring to The Hill — as if the fact that it cost taxpayers $95,000 for a mere six-hour visit instead of for an overnight stay was somehow more understandable. Grisham also called the Quartz report "irresponsible journalism."
Nevertheless, federal records state that $95,000 was paid to the Cairo hotel on Sept. 30.
Grisham told People magazine that her team is now looking into the source of the number, which was reported by the Department of State and was labeled as "100 percent obligated." She did not dispute the amount.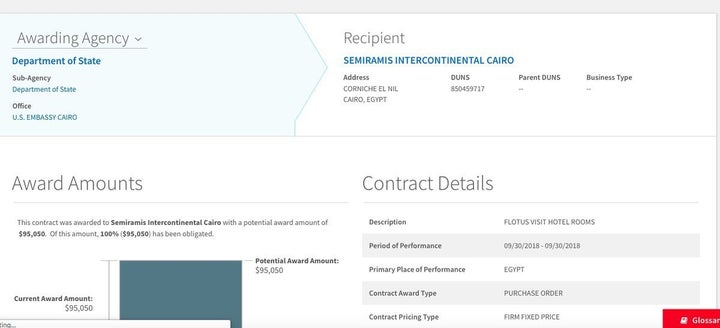 The hotel bill isn't itemized on the federal records, but presumably it also covered the cost for her entourage, including Secret Service protection. The purpose of the expenditure is listed simply as "FLOTUS visit hotel rooms."
People responding to Grisham on Twitter were confused about the point she was making.
Melania Trump stopped in Cairo after visiting children in orphanages and schools, meeting with leaders and viewing animals during her tour in Ghana, Malawi and Kenya.
The former model was criticized by the media and on social media for her out-of-date "Out of Africa" fashion choices, including a white pith helmet seen by many as a painful symbol of colonialist Africa.
In an earlier provocative fashion choice on her way in June to visit immigrant children being detained in Texas, she wore a jacket that said on the back: "I really don't care, do U?" She said later in an ABC interview that it was a direct message to the "left-wing media who are criticizing me." She added: "I want to show them that I don't care."
Grisham insisted at the time in a statement: "It's a jacket. There was no hidden message."
The U.S. government's bill for the president's two-night stay this summer at his own Turnberry golf resort in Scotland, which included accommodations for his son Eric, chief of staff John Kelly and press secretary Sarah Huckabee Sanders, came to $68,000, the Scotsman newspaper reported, citing U.S. spending records.
Popular in the Community