The wife of GOP presidential frontrunner Donald Trump said Wednesday she supports her husband's hardline positions on immigration, despite the fact she is an immigrant.
In an interview with Mika Brzezinski on MSNBC's "Morning Joe," Melania Trump, who was born in Slovenia, defended her husband's explosive attacks on Mexican immigrants, as well as his inflammatory proposal to ban Muslims from entering the U.S.
When he kicked off his presidential campaign last summer, Trump infamously said that Mexico was not sending "its best" over the U.S. border, but instead people who are "bringing drugs [and] crime" and who are "rapists."
Melania Trump backed up those comments with the rationale that her husband was speaking only of "illegal immigrants," as opposed to those who are documented.
"I don't feel he insulted the Mexicans," she told Brzezinski. "He said 'illegal immigrants.' He didn't talk about everybody. He talked about illegal immigrants. After two weeks, giving him a hard time, and bashing him in the media, they turn[ed] around and said, 'You know what? He's right. He's right what he's talking about.' He opened a conversation that nobody did."
Melania said she came to the U.S. in 1996, after a successful modeling stint in Europe. Asked if her husband sometimes goes "too far" in his rhetoric on borders, she suggested she shares her husband's disapproval of undocumented immigrants residing in the U.S.
"I follow the law. I follow the law the way it's supposed to be," she said. "I never thought to stay here without papers. I had [a] visa, I traveled every few months back to the country, to Slovenia, to stamp the visa. I came back. I applied for the green card. I applied for the citizenship later on after many years of green card. I went by [the] system. I went by the law. And you should do that. You should not just say, 'Ok, let me stay here, and whatever happens happens.'"
As for her husband's idea to ban Muslims from entering the U.S., Melania defended the proposal on the grounds that the ban would only be "temporary." Late last year, after the terror attacks in France and California, Trump demanded a "total and complete shutdown" of Muslims entering the U.S. for the time being.
"What he said is it would be temporary and not for all the Muslims," Melania said. (In fact, Trump's campaign manager said at the time the ban would apply to "everybody," including Muslims seeking tourist visas.)
"He wants to protect America. He wants to protect the people of America," she added. "That's very important to him. What's going on in the world, it's very dangerous. You have people coming into the country, you don't know who they are."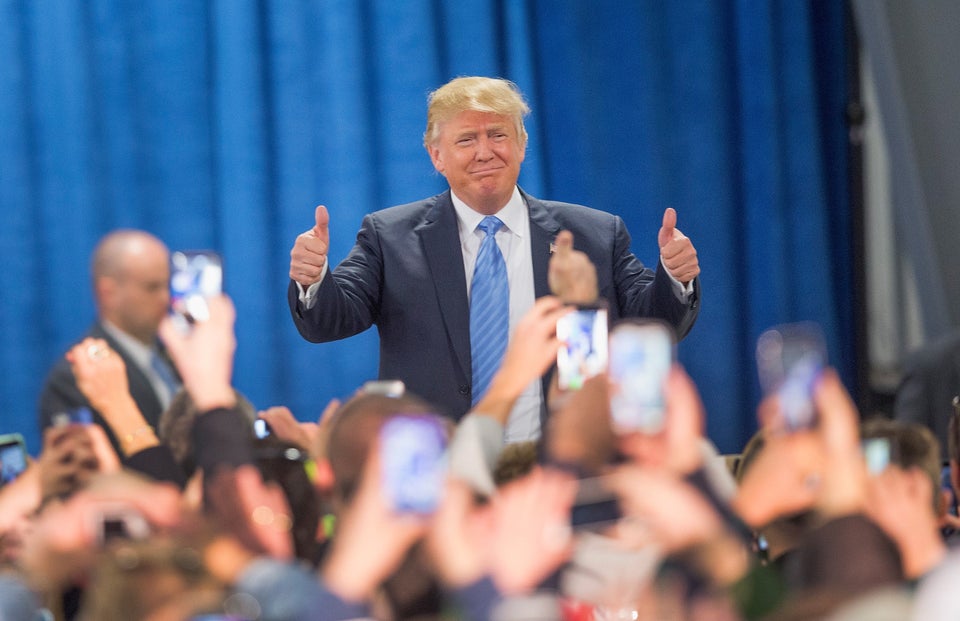 Donald Trump On The Campaign Trail
Popular in the Community