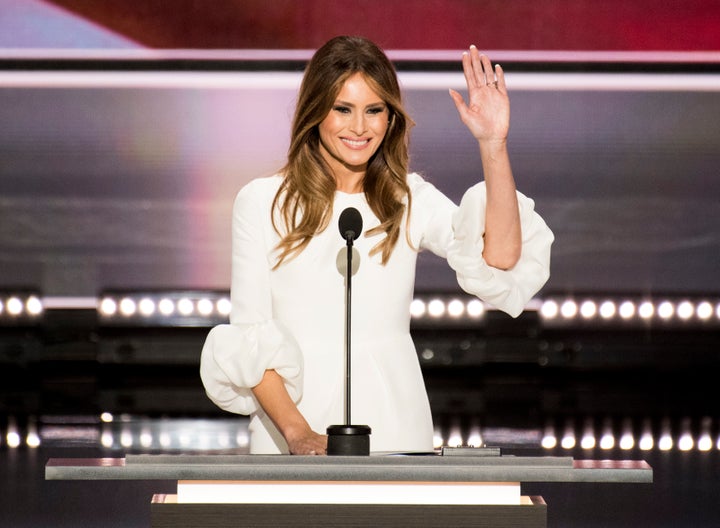 Alé de Basse­ville, the photographer whose July comments led to questions over whether Melania Trump lied about her immigration history, is now backing up the timeline the GOP nominee's wife has offered regarding when she started working in the United States.
The former model again denied allegations on Wednesday that she worked in New York City in 1995, which would have been illegal if she did not receive work authorization until the following year. The allegations were prompted, in part, by the New York Post publishing photos from the now-defunct French magazine Max ― and de Basse­ville saying the photos had been taken in Manhattan in 1995 and published in January 1996.
But de Basse­ville told the New York Post on Wednesday that he misspoke.
"[T]he photo session actually took place in 1996 in Manhattan, and appeared in a 1997 issue of the magazine," a spokeswoman for the newspaper said he told the publication. The Post has since updated its piece.
De Basseville's clarification gives some credibility to Melania's claims that her immigration record has been misreported. The issue over her early immigration status first erupted in August, when Politico reported the discrepancies between her story and other published reports. Critics quickly noted that her husband, Donald Trump, has been hypercritical of both unauthorized workers and even legal immigrants using H-1B visas, as his wife says she did.
Melania posted to Twitter a letter from her attorney, Michael J. Wildes, on Wednesday. Wildes writes that Melania "never worked in the United States in 1995 because she was was never in the United States in 1995" (emphasis his). She first entered the U.S. on Aug. 27, 1996, on a visitor visa and received a work visa on Oct. 18 of that year, he said.
The Trump campaign did not produce any documentation of Melania's immigration record, and there are still discrepancies between the letter and past reports and remarks. A recent biography of Melania published by Slovenian journalists also says she came to the U.S. in 1995, according to Politico. 
Melania has said she left the country "every few months" to get her visa stamped before she became a legal permanent resident ― which contradicts her latest statement that she received five one-year H-1B visas to work between 1996 and 2001. 
Calling all HuffPost superfans!
Sign up for membership to become a founding member and help shape HuffPost's next chapter
BEFORE YOU GO