Just imagine how far a private language school can go when dealing with Melania Trump's legal team.
On Friday, five billboards that featured a photo of the first lady next to the phrase "just imagine how far you can go with a little bit of English" popped up in Croatia, the Associated Press reports. On Tuesday, they were all taken down after Trump's lawyer, Natasa Pirc-Musar, threatened a lawsuit.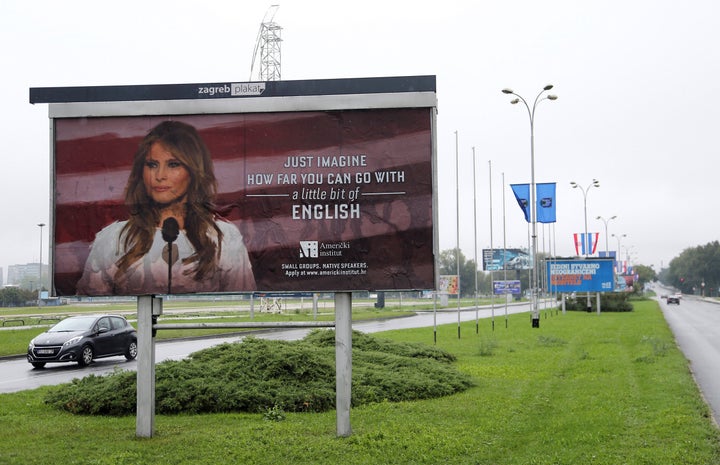 The American Institute in Zagreb put up the gigantic ads emblazoned with the Slovenian-born former model's face because Trump is "the most recognized emigrant to the U.S. from this region," spokeswoman Ivis Buric told CNBC.
Buric told the AP that the billboard was meant to be positive or "to show [Trump] as a role model."
A White House spokesperson told the Washington Post that the school did not have Trump's consent to use her image and violated the law.
Various companies in Trump's native Slovenia have used her image to market products including honey jars, high heels, underwear and even "cakes decorated with golden dust." Attorney Pirc-Musar told the AP in late 2016 that she issued a "general warning" to these companies, though no lawsuits were filed.
Trump, however, was totally cool with a Christmas tree being named after her in Slovenia's capitol without her permission.
"We have nothing against the Christmas tree in Ljubljana named Melania because this has nothing to do with commercial purposes," Pirc-Musar told the AP. "But we can't allow some products to be named 'Melania Trump.'"
REAL LIFE. REAL NEWS. REAL VOICES.
Help us tell more of the stories that matter from voices that too often remain unheard.