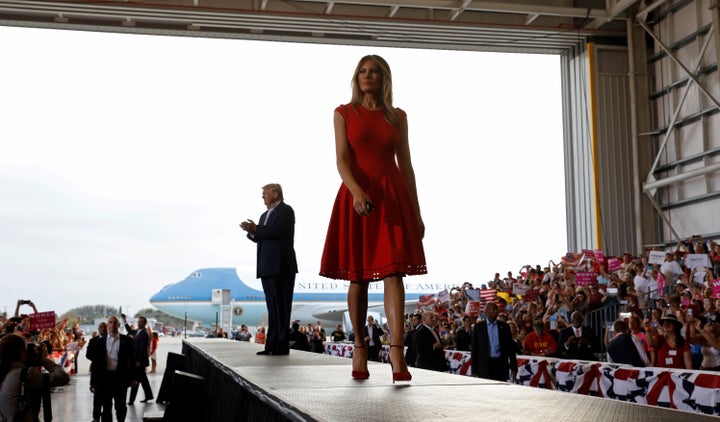 On February 18, the New York Times published a rather strange defense of Melania Trump's absence from the nation's capitol. As most Americans know, Mrs. Trump remains in New York where her son Barron is enrolled in school, and she plans to stay there until the school year ends this spring.
Jennifer Weiner's piece, entitled "Want Melanie Trump in the White House? Pay Her," depicts the role of first lady as just another job. Nodding towards the women's movement, Weiner suggests Trump should be paid for the work she would do as first lady.
On the same day, February 18, the Times presented another odd defense in Katie Rogers's essay, "Reluctant First Lady? Melanie Trump Wouldn't be the First to Claim That Title." Among the first ladies who "took time to find their footing," according to Rogers, were Louisa Adams, Bess Truman, Pat Nixon, Jackie Kennedy, Jane Pierce, and Eliza Johnson. None of them were especially eager to take on the role, Rogers says, and they struggled with its demands.
Both authors misread key points of American history, beginning with the crucial fact that most first ladies lived with their husbands in the White House most of the time. These authors also neglect the way that the role has changed since Eleanor Roosevelt's era, and especially so since the 1970s.
The women's movement did indeed have an impact on the role, just as it did on almost every aspect of American society. Most first ladies, including Republicans, have felt they had to identify a public issue to promote during their time in Washington. That was true for Republican women who led traditional lives with no paying jobs outside the home: Nancy Reagan took on the issue of drug abuse, and Barbara Bush focused on literacy. They abided by the public role that they were expected to play, not an explicitly partisan role, but one that demonstrated they had an awareness of the common good.
Furthermore, as the power of the presidency has increased dramatically since World War II, so has the visibility of the first lady. The United States is now a world power, which was not true when Louisa Adams's husband took office in 1824. Moreover, the electorate is much, much larger. Today women as well as men, from all racial, ethnic, and religious backgrounds all over the country, can vote. That was not the case when Jane Pierce's husband became President in 1852.
Today the public has expectations, and that is part of the job description of the modern first lady. To point out the obvious, pubic expectations should matter to public figures. No one is forced to run for president of the United States, and when a married man becomes president, the American people naturally assume that he and his wife will undergo a profound change in status and visibility. In a democracy, she is supposed to represent the public, all of the people, and go out and meet the people. The first lady's role is symbolic, the specifics not written down anywhere, but the role is nonetheless highly significant.
Jennifer Weiner's suggestion that Mrs. Trump should be paid would introduce economics into a relationship that is supposed to be protected from such considerations. Several practical questions immediately arise: how much money should she receive—the same salary as her husband? And do Melania Trump's predecessors receive back pay for the public labor they did without compensation, out of a sense of duty? Weiner echoes Mrs. Trump's own perception of her role, revealed in the lawsuit she filed against the Daily Mail, that being first lady is supposed to enhance her brand as if she were a product.
That leads us to the nature of marriage and the way the institution has changed over time. Today the public expects the first couple to have what historians call companionate marriage, that is, a partnership between the president and his wife. Every marriage is a mystery, opaque to outsiders, but the Trumps do not seem to work together as a team. To cite just one example, she plagiarized part of her speech at the Republican National Convention, which embarrassed her husband at a high point in his political career. They do not act as if they are friends, much less spouses. It is hard to imagine other presidential couples spending so much time apart, especially the first six months of his term when most spouses would need each other's support as they made the biggest transition of their lives. And most couples would want to be together in the White House if only to share the experience.
What is most troubling of all, the Trumps appear to be oblivious to all these cultural, political, and social transformations since the Second World War. They do not seem to be rejecting the changes of the last seventy-five years; they seem to be unaware of them. They do not seem to comprehend that they are now historical figures with responsibilities. Thus far the public has reacted with uneasiness, rather than outrage, to Melania Trump's absence from Washington, perhaps because her husband's behavior has been so unpredictable. But Mr. and Mrs. Trump appear to have no sense of obligation to the public at large, which has manifested itself in many ways in his young presidency.
Calling all HuffPost superfans!
Sign up for membership to become a founding member and help shape HuffPost's next chapter