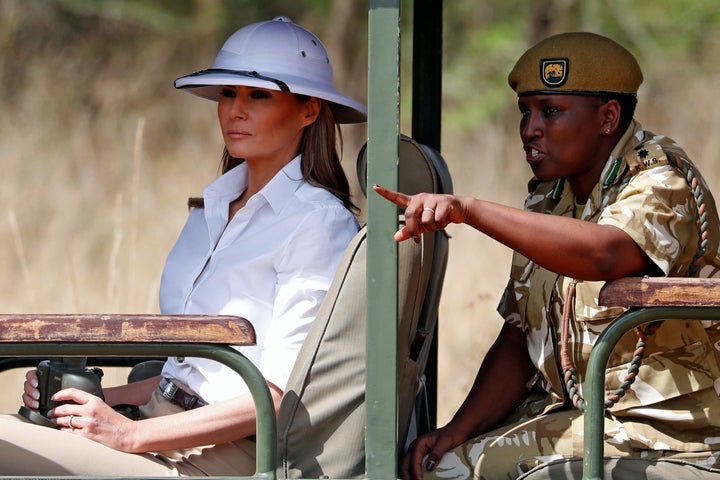 While first lady Melania Trump reportedly mourned an ivory burn and toured an elephant conservation site in Kenya on Friday, a dark irony hung over her visit: Just months ago, her husband's administration quietly lifted an Obama-era ban on Americans bringing ivory and other elephant body parts home as trophies.
"It is sad to see this," the first lady reportedly told her guide while viewing 105 tons of ash from an ivory burn, Bloomberg reporter Jennifer Jacobs tweeted from the scene. Conservationists carry out the burns in hopes of hindering the ivory trade.
Though President Donald Trump called elephant hunting a "horror show" last November, he did not intervene when Secretary of the Interior Ryan Zinke ― an avid trophy hunter like Trump's adult sons Donald Trump Jr. and Eric Trump ― announced in March that he was lifting the trophy import ban.
Zinke's office defended its decision by saying the money from hunting permits would bring in more money for conservation. The U.S. Fish and Wildlife Service, an agency of the Department of the Interior, claimed that lifting an existing ban on elephants imported from Zimbabwe and Zambia and encouraging wealthy big-game hunters to kill the threatened species would help raise money for conservation programs.
But conservationists denounced the idea and pointed to an ever-dwindling elephant population. According to the Great Elephant Census, the African elephant population shrank nearly 30 percent from 2007 to 2014.
The first lady also caught flak for her outfit on Friday, which critics said made her look like a colonial conqueror.
An hourlong special highlighting her trip to Africa ― which also includes stops in Ghana, Malawi and Egypt ― is scheduled to air next Friday on ABC.
Support HuffPost
The Stakes Have Never Been Higher
Popular in the Community