CLEVELAND ― The mess that is Donald Trump's campaign came into full view Monday night when Melania Trump stepped onstage at the GOP convention and delivered the biggest speech of her life ― that ended up being partially plagiarized from first lady Michelle Obama.
The embarrassing misstep has completely dominated media attention Tuesday, overshadowing what the campaign hoped would be a triumphant moment for the Trump family. And campaign officials and supporters have made the situation worse, offering a slew of conflicting explanations for what happened.
There's no plagiarism. Campaign Manager Paul Manafort has publicly denied that the relevant portions of the two speeches are the same ― despite the fact that when played side-by-side, they're nearly identical. "There's no cribbing of Michelle Obama's speech. These were common words and values. She cares about her family," Manafort said on CNN Tuesday morning. "To think that she'd be cribbing Michelle Obama's words is crazy."
It was Melania's fault. MSNBC's "Morning Joe" reported that officials close to Manafort have thrown Melania under the bus. "We have three different reporters that have come back saying that Manafort, or those close to Manafort, are claiming that Melania Trump is the one that added Michelle Obama's words to the speech."
English isn't Melania's first language. Former Trump aide Corey Lewandowski reminded CNN viewers Tuesday that Melania is not a native English speaker. "Remember, Melania Trump speaks four languages, unbelievably intelligent. This is not her native language," he said. "She relied on other people to make sure the speech was right, and it went through the process which all convention speeches do."
Michelle Obama didn't invent the English language. Trump spokeswoman Katrina Pierson also rejected the idea that there was plagiarism, telling The Hill, "These are values ― Republican values, by the way ― of hard work, determination, family values, dedication and respect, and that's Melania Trump. This concept that Michelle Obama invented the English language is absurd."
Melania wanted to communicate with words people would know. Pierson told Sky News Melania "wanted to communicate to Americans in phrases they have heard before."
It doesn't matter because most of the speech was original. New Jersey Gov. Chris Christie (R-N.J.) brushed aside the plagiarism because the entire speech wasn't plagiarized. "Ninety-three percent of the speech is completely different from Michelle Obama's speech," Christie told the "Today" show. "They expressed some common thoughts."
It was a compliment. Rep. Joe Wilson (R-S.C.) told The Huffington Post Tuesday that the first lady should be flattered: "My view is, to quote other first ladies, or potential first ladies, that is positive. Even unattributed. Hey, it was meant as a compliment."
It was just an accident because the writers weren't organized. Alex Castellanos, a strategist for a pro-Trump super PAC, said it's hard to stay organized when writing a speech, and there were likely some notes left sitting around that were included in error.
This was all part of an elaborate plan by the campaign. Former Mississippi Gov. Haley Barbour (R) wondered on CNN Tuesday whether the Trump campaign actually planned the plagiarism and the controversy to bring more attention to its message. "What was interesting to me is, did the campaign intend for this? Because everything that Melania Trump said that Barack Obama's wife had said are things that she said Barack Obama would do and he didn't do," Barbour said.
Jen Bendery contributed reporting.
CORRECTION: A previous version of this story mistakenly identified Joe Wilson as a former representative.
Before You Go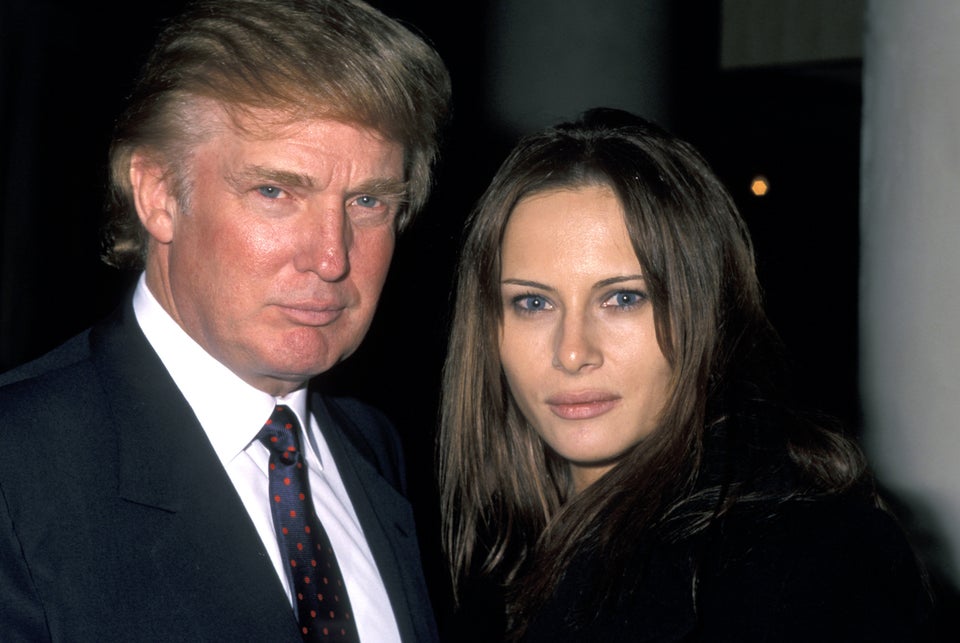 Melania Trump's Non-Changing Face
Popular in the Community