CLEVELAND ― Late Monday night, journalist Jarrett Hill was the first to flag some striking similarities between Melania Trump's speech at the Republican National Convention and one delivered by Michelle Obama at the Democratic National Convention in 2008. Almost immediately, the RNC media pen was consumed by a plagiarism scandal.
Trump's campaign team was quick to deny the allegations. But even if it did have the gumption to boost a few passages from the first lady and pass them off as Melania's, it was far from the most remarkable occurrence on the RNC's kickoff day. Here are a handful of episodes that were significantly wackier than Mrs. Trump's appropriation at the podium.
RNC speaker asserts Obama is Muslim
Antonio Sabato, Jr., an underwear-model-turned-reality star, had one of the coveted day one speaking spots on Monday. But whatever he said onstage was eclipsed by what he said afterwards. In an interview with ABC News, Sabato trotted out the age-old conspiracy theory that President Barack Obama is Muslim.
"I don't believe the guy is a Christian," Sabato said. "I don't believe the guy follows the God that I love and the Jesus that I love. If you follow his story, if you understand about Obama, I mean, that's not a Christian name, is it?"
"I have met a lot of Christians, know a lot of Christians. I am one, and I don't believe he is," Sabato added. "I believe that he's on the other side."
"We had a Muslim president for seven and a half years," he said.
For the record, Obama is Christian.
Multiple speakers call for Hillary Clinton to be jailed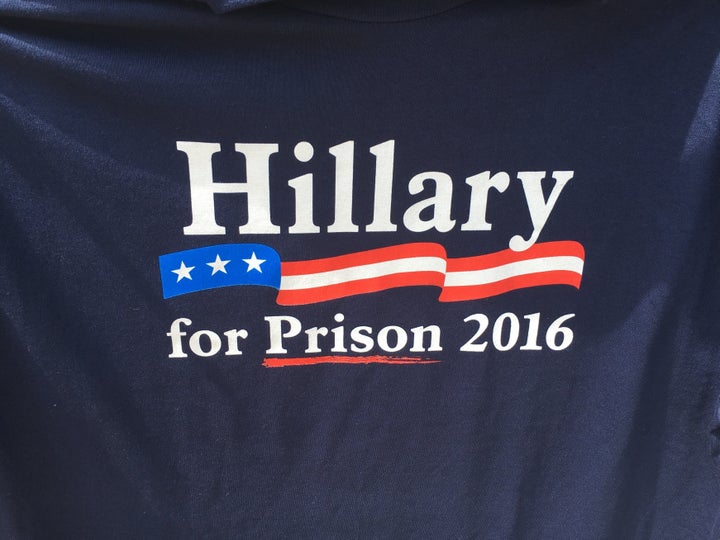 All day Monday outside the Quicken Loans Arena, vendors were selling t-shirts that read "Hillary for Prison." Onstage inside the arena, there were almost as many calls to jail the presumptive Democratic nominee.
Colorado Senate candidate Darryl Glenn said Clinton should be in the hoosegow, not running for president. "We all know she loves her pantsuits. But we should send her an email and tell her she deserves a bright orange jumpsuit," Glenn said.
Retired Lt. Gen. Michael Flynn said Clinton should drop out of the race and start serving time. "If I did a tenth of what she did, I'd be in jail today," Flynn said, encouraging chants of "lock her up." "That's right, lock her up," Flynn responded.
Patricia Smith, the mother of Sean Smith, who died in the Benghazi attack, also joined the Hillary-for-prison chorus. "She should be in stripes," Smith said.
The RNC's opening prayer gets super partisan
Mark Burns, a pastor from South Carolina, delivered the convention's decidedly political benediction. Burns began with a call for unity within the Republican Party, "because our enemy is not other Republicans, but is Hillary Clinton and the Democratic Party!" After calling on delegates to pray together, Burns closed his eyes and thanked God for "giving [Trump] the words to unite this party, this country, that we together can defeat the liberal Democratic Party."
Crowd celebrates acquittal in Freddie Gray case
In his speech, Milwaukee County Sheriff David Clarke noted how difficult a week it's been for the police community, after three officers were shot dead in Baton Rouge. But Clarke, who's no fan of the Black Lives Matter movement, said there was a silver lining: Lt. Brian Rice, who was charged in the death of Baltimore resident Freddie Gray, was acquitted on Monday.
Popular in the Community