The story referred to a statement the first lady's communications director Stephanie Grisham gave to CNN, proclaiming that Trump can watch "any channel she wants." That was in response to an earlier Times report that President Donald Trump became enraged that his wife watched CNN, which he frequently calls "fake news."
Grisham's statement also sidestepped questions about that day's major story, the president's longtime personal attorney Michael Cohen releasing an audio tape of him and the then-presidential candidate discussing a payment to kill a story of an alleged extramarital affair.
She instructed reporters to instead focus on the first lady's "Be Best" children's initiatives, to which her husband has devoted little attention since becoming president.
Asked about the comparisons to the president, Grisham said that the East Wing has its own press strategy, and disputed that she only responds through criticism of the media.
"I put positive tweets/readouts/videos out constantly," she wrote in an email. "In my opinion, the media chooses to cover the more salacious gossip or silly speculation in order to get headlines or clicks. To be honest, I wish they would cover more of her work on behalf of children, rather than some of the things they choose to focus on."
These critical responses to press coverage have occurred in tandem with Melania Trump's gradual and at times rocky ascension to her position as first lady, often fraught with challenges and seen as arcane and sexist. According to scholars who have studied the communications strategies of first ladies, it's yet another way in which Trump has taken a radically different approach to the role.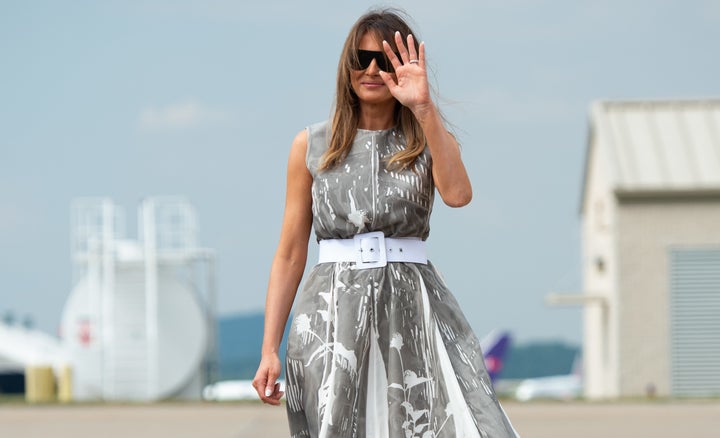 While it was common for previous first ladies and their staffs to push for positive news coverage, according to Myra Gutin, professor of communication at Rider University and author of The President's Partner: The First Lady in the Twentieth Century, they were rarely "combative" with reporters, she said.
"I don't really recall anyone lecturing the press," Gutin said, adding that Trump's outreach to the press "always seems to be reactive rather than proactive."
Instead, past first ladies strove for "positive relations with the press because they felt that they could help them tell their story," she said. "I don't get that sense at all from this administration."
"When I first heard she was visiting the border, I thought, "Wow, OK, that's a good thing." She's showing her concern for the children and their parents. And then, to have the nonsense of the coat."
HuffPost reached out to several press secretaries or communications directors for former first ladies, but many did not respond. Barbara Knight, who served as first lady Laura Bush's deputy press secretary, declined to comment specifically, but said in an email that she and other members of Bush's staff "had a great relationship with the White House press pool" and considered the reporters she worked with "like family."
"We might have disagreed at times, but we (White House staff as well as the President and First Lady) certainly always treated the press with respect," she wrote.
The combative tone is one of several ways in which Melania Trump's communications strategy sharply differs from that of her predecessors, said Lauren Wright, a lecturer in politics and public affairs at Princeton University, and the author of On Behalf of the President: Presidential Spouses and White House Communications Strategy Today.
"Usually what the East Wing does is they try to not come out with any negativity, unless they absolutely have to," Wright said. "And that usually comes from a West Wing staffer, if it is negative. They try to retain this status that's really positive, the image that first ladies have, so they don't want to tarnish that in general."
Both Wright and Gutin also cited an apparent lack of attention to optics. Wright noted that it's crucial for advisers to the first lady to anticipate "what the effect of this messaging might be, or what the downside might be," because first ladies are traditionally positive assets for presidential administrations, deployed to bolster their spouse's policies and serve as a compelling surrogate on the campaign trail.
"She has experiences that other Trump family members and surrogates do not. Any other administration would look at those life experiences that she has had and really try to leverage them, politically speaking."
Polling and research have shown that they are more popular and less divisive than presidents, and can shape public opinion in positive and relatively noncontroversial ways, she said.
"This is such a unique opportunity for the White House," Wright said. "The first lady's office historically has been a boon for them, a beloved person who makes the president's policies look good."
Instead, several of Trump's public appearances have created controversies of her own making — for example, the "I REALLY DON'T CARE, DO U?" jacket seen around the world, which both Gutin and Wright cited as a major and easily preventable misstep that overshadowed what could have been a positive moment for the first lady.
"How do you let her do that?" Gutin said of the jacket, which Trump wore before boarding a plane to visit undocumented immigrant children detained at the U.S.-Mexico border. "When I first heard she was visiting the border, I thought, 'Wow, OK, that's a good thing.' She's showing her concern for the children and their parents. And then, to have the nonsense of the coat."
Some of the errors could be logistical, as Trump has a smaller staff compared to that of previous first ladies.
And Gutin noted that every one of her recent predecessors was already "in essence, a political professional. They've all been the spouse of a governor or a senator. So she came to this with, really, no background," she said.
As for improving her public perception, Wright argued that Trump could do more to highlight her personal story.
"She has experiences that other Trump family members and surrogates do not," Wright said. "Any other administration would look at those life experiences that she has had and really try to leverage them, politically speaking."
Popular in the Community