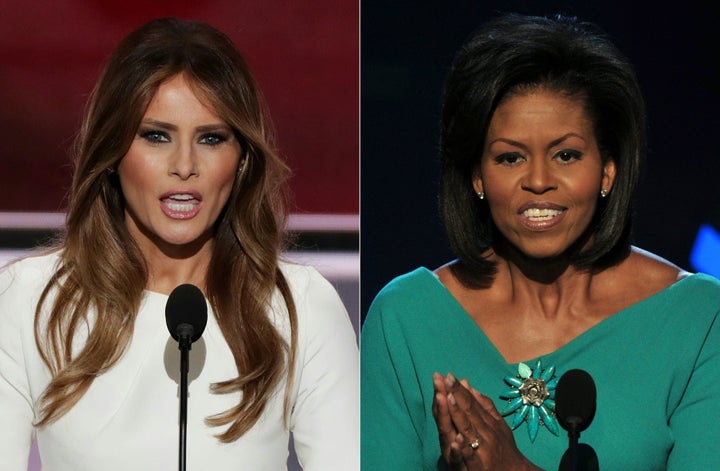 Meredith McIver, a staff writer for the Trump Organization who worked with Melania Trump on the speech, released a statement explaining how the incident had occurred. During the speechwriting process, McIver said, Trump dictated lines over the phone that she hoped to use as inspiration for her address.
"A person she has always liked is Michelle Obama," McIver said. "Over the phone, she read me some passages of Mrs. Obama's speech as examples. I wrote them down and later included some of the phrasing in the draft that ultimately became the final speech."
McIver claimed she then failed to double-check the lines they selected against Obama's speeches.
"This was my mistake, and I feel terrible for the chaos I have caused Melania and the Trumps, as well as Mrs. Obama," McIver said. "I meant no harm."
McIver said she offered the Trump family her resignation, but they rejected it.
Her statement is not likely to assuage the doubts about the campaign's competency raised in the wake of the incident.
That McIver, an employee of the Trump Organization, the real estate mogul's company, played such an integral role in drafting the speech, rather than a member of the campaign or another professional speechwriter, affirms the perception that Donald Trump is running a bare-bones operation incapable of competing nationally.
The news also fails to contradict reports of the chaos that led up to the speech. The Trump campaign had initially turned to well-respected speechwriters Matthew Scully and John McConnell to make sure that Melania Trump's first foray onto the political main stage went smoothly, according to The New York Times.
But Trump was apparently unhappy with their draft, and spent the larger part of a month tearing it apart without their input.
Ahead of the speech, Trump had sought to portray herself as the creative force behind the remarks, telling NBC News that she "wrote it with as little help as possible."
The plagiarism revelations have dominated coverage of the RNC since Monday night, becoming a major source of embarrassment to the Trump campaign during the very week he was crowned the Republican nominee. Before McIver released her statement, the campaign and its surrogates offered a wide array of excuses and explanations for what occurred, many of them bordering on the absurd.
Campaign manager Paul Manafort has been perhaps the most vociferous in denying that any plagiarism had occurred at all.
"To think that she'd be cribbing Michelle Obama's words is crazy," Manafort said on CNN on Tuesday morning.
He doubled down Wednesday, acknowledging only that "similar words" were used and blaming the media for harping on the controversy.
Nick Wing contributed reporting.
Popular in the Community