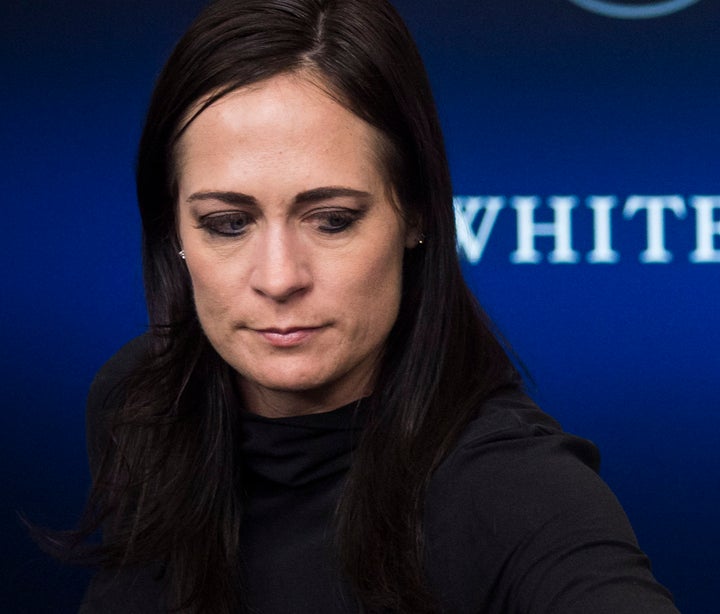 Stephanie Grisham received a warning following a complaint two months ago from Sen. Tom Carper (D-Del.), OSC deputy chief Eric Hamrick said in a letter to the senator Thursday. The OSC, a permanent agency unrelated to Special Counsel Robert Mueller's probe, has no power to impose punishment, according to The Hill.
The office found that a Grisham tweet in July violated the Hatch Act, which prohibits White House officials from using their government job to advocate for political candidates.
Grisham's tweet from her official account used the Trump campaign slogan #MAGA and a photo from a campaign rally as she gushed about how "life has never been the same" since she "followed her gut" and joined the campaign three years earlier. "So proud to work for @POTUS and @Flotus!" she added.
Tweeting a "campaign slogan of a current candidate for partisan political office constitutes political activity," Hamrick wrote.
Girsham deleted the post after she was warned.
Grisham "has been advised that if in the future she engages in prohibited political activity while employed in a position covered by the Hatch Act, we will consider such activity to be a willful and knowing violation of the law, which could result in further action," Hamrick said in his letter to Carper.
There was no immediate response from Grisham.
Carper, in a statement, complained that the Trump administration's "blatant and repeated disregard for the law is astounding and unacceptable."
At the "very least, we should be able to trust that those who serve in the highest positions in our government will follow the law," Carper tweeted Thursday.
White House senior aide Kellyanne Conway also has been found to have violated the Hatch Act. She illegally urged Americans to "go buy" Ivanka Trump's "stuff" during an interview on national TV last year, the OSC determined, and broke the law again when she urged people to vote for Alabama Senate candidate Roy Moore.
Popular in the Community