First lady Melania Trump has personally thanked former first daughter Chelsea Clinton for standing up for her son, Barron, after a conservative news site criticized the 11-year-old's style of clothing.
"Thank you @ChelseaClinton ― so important to support all of our children in being themselves! #StopChildhoodBullying," the first lady tweeted Tuesday night.
Her tweet followed an article published on The Daily Caller's website Monday that targeted President Donald Trump's youngest son. Taking exception to the T-shirt and shorts the boy wore as he and his parents returned to the White House on Sunday from the president's golf club in Bedminster, New Jersey, the article said it was "about time" Barron "starts dressing the part" of a first family member.
"While the president and first lady traveled in their Sunday best, young Barron looked like he was hopping on Air Force One for a trip to the movie theater," the article said. It also said his attire for a "public appearance" with his parents "isn't normal."
Clinton, a mother of two, snapped back on Twitter, writing: "It's high time the media & everyone leave Barron Trump alone & let him have the private childhood he deserves."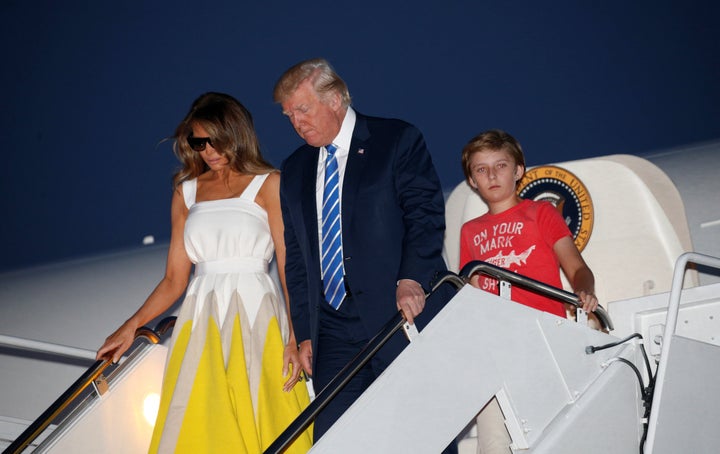 Her pledged mission sparked some skepticism and criticism, however, with her husband having a penchant for attacking reporters and political opponents both online and in person. His attacks ― including a recent one against Arizona Sen. Jeff Flake (R.) ― often include name calling.
During a rally in Arizona on Tuesday night, he turned the attention away from the nation's struggle with hate groups to blame the "fake news" media for giving them a platform.
"I really think they don't like our country. I really believe that," he said.